Seemingly off-kilter, this ammunition box hallway or sofa table from CustomMade artisan tim sway perspectives definitely channels a rich past, and at the very least, can be used for plenty of storage space, which makes this one of the most unique and usable finds ever.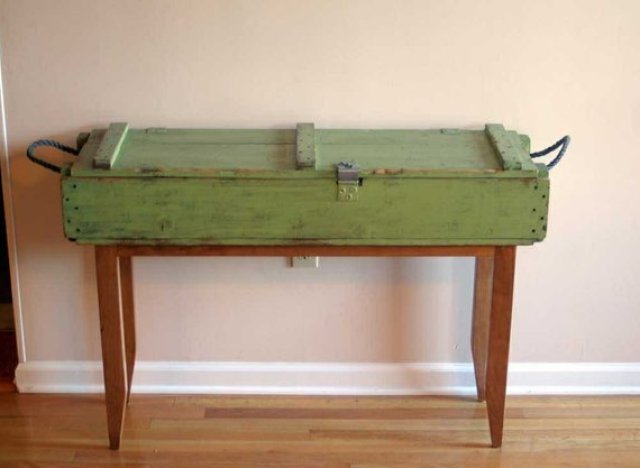 Photo by CustomMade artisan tim sway perspectives
Perhaps it's the vintage look of this table or the historic story behind it, but there's no doubt this ammunition box table is a stylistic statement that'll get people talking. Although it may seem hard to complement this unique find with other furnishings, the aged military green hue -- a testament to its Vietnam War-era authenticity -- and its reclaimed cherry wood legs could bring the perfect blend of function and aged beauty to a neutral and classically decorated hallway or living room. Pops of florals could even balance out the table's rugged exterior, making this one-of-a-kind piece uniquely versatile.
Want to see more? Visit CustomMade to browse for more of these amazing and unique works, or check out these other creations in the slideshow below.