FHM Philippines has decided to axe the cover of its latest issue from shelves after readers complained upon seeing a teaser that it was racist.
The problem? The cover featured a light-skinned model in a pink swimsuit posing while surrounded by darker-skinned models in black bikinis and boasted the tagline, "Stepping Out Of The Shadows."
Oof.
First, there was the social media uproar. ("Seriously, did you guys not sense how racist this concept was?" reads one comment on the mag's Facebook page.) FHM then posted an official statement on their website, saying they're retracting the cover:
On Saturday, February 25, we uploaded the March issue with Bela Padilla on the cover on our Facebook page. Just hours later, a slew of comments on the supposed "racism" of the cover image and cover line flooded the magazine page, prompting the editorial team to re-examine the cover so that we could put into context its execution and assuage the concerns of our readers and non-readers as well who've weighed in on the issue.

We took all the points into consideration and have decided to take the side of sensitivity.

When FHM hits the stands in March it will have a different cover. We deem this to be the most prudent move in the light of the confusion over the previous cover execution.

We apologize and thank those who have raised their points. We apologize to Bela Padilla for any distress this may have caused her. In our pursuit to come up with edgier covers, we will strive to be more sensitive next time.
The new cover will still feature the same actress, Bela Padilla.
Padilla tentatively defended the magazine, saying in an interview with the BBC that you "had to see the article to understand" the cover. She adds that two of the girls in the cover photo were actually of Filipino descent who were painted to look darker.
To read more, click over to MSN, and see the offending cover in question below.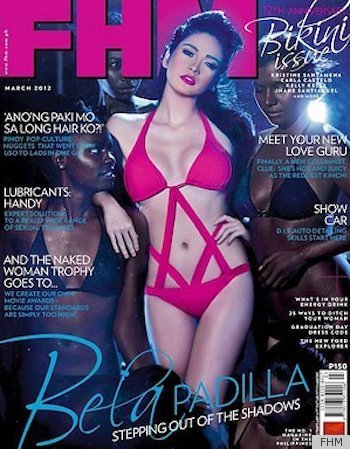 Have something to say? Be sure to check out HuffPost Style on Twitter, Facebook, Tumblr and Pinterest.
BEFORE YOU GO