Showcase some natural beauty with this Craft Of The Day, which is as easy to do as it looks. It'll add a touch of rustic style to any space. Keep reading for the how-to.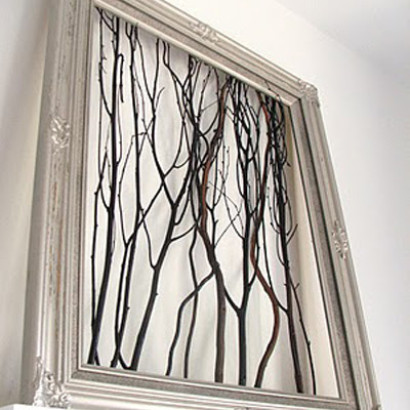 Photo by Tracie Stoll of Cleverly Inspired
What You'll Need
Large frame
Newspaper
Spray-paint
Clippers
Staple gun
Branches
How To Make It
1. Spray-paint the frame over newspaper.
2. When dry, flip over the frame.
3. Place branches across the frame to your liking.
4. Use a staple gun on both ends to secure.
5. Use clippers to trim any oversize branches.
6. Turn over and hang!
For a full tutorial, visit Cleverly Inspired. And, be sure to check out the other great crafts in our Craft Of The Day slideshow below.
PHOTO GALLERY
Craft Of The Day