Paris Fashion Week continues its celeb-filled second day with a visit from Katy Perry. After landing in the City of Light last night, the Smurf-haired star spent today flitting around the city with a trail of paps and eager fans.
Most fans, it seems, were taken with her daytime outfit, which consisted of a perforated white vest, a sheer white dress and a pair of chic undies (yes, such a thing exists) underneath. (UPDATE: the whole look is straight-from-the-runway Vera Wang!)
But as much as we love us a good sheer dress-underwear combo, we're crushing hard on the gleaming dress she's wearing right now at Karl Lagerfeld's party for Hogan, the Tod's-owned label for which he designs (because who doesn't Karl design for?). BryanBoy and Nicole Phelps of Style.com both tweeted pics of Katy, who's paired her blue hair with a gold and white minidress. As she said herself, "It's either Las Vegas showgirl hooker, or it's Balmain."
Spoiler: it's Balmain. Check out Katy's Paris Fashion Week looks below!
Katy Perry on her dress: "It's either Las Vegas showgirl hooker, or it's Balmain." At Hogan dinner. NP instagr.am/p/HpOzZZn2k1/

— styledotcom (@styledotcom) March 1, 2012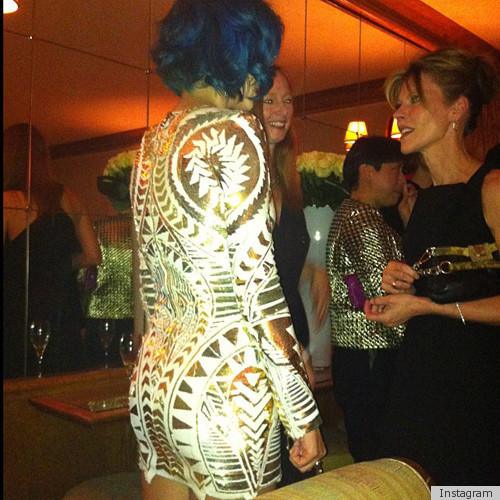 Me ADR and Katy perry twitter.com/bryanboy/statu…

— bryanboy (@bryanboy) March 1, 2012 BEFORE YOU GO