Award season has come and gone and all we're left with is the memories of the most boring Oscars in recent history and tons of photos of stars celebrating themselves on Hollywood's biggest night.
The Vanity Fair Oscar party is not an easy invitation to score, but once celebs have made it past the velvet rope it's time to kick back, have a drink, mingle with Denver Broncos quarterback Tim Tebow and pose for some adorable photos.
Inside the Vanity Fair photo booth, Seth Rogen, Elizabeth Olsen, Katie Holmes, Kristen Wiig, Emma Stone and many more let loose, made some wacky faces and a few even got a little intimate.
Last year, Justin Bieber and Selena Gomez made their first public appearance as a couple at the party and snapped a few photos of themselves making out inside the photo booth -- needless to say, we were slightly disappointed when we realized Gomez hit the party solo this year.
Although the young couple was missed, we think "How I Met Your Mother" star Neil Patrick Harris and his fiance, David Burtka, filled the void. We love these photos of the couple making funny faces one moment and locking lips the next. Meanwhile, the cast of TV's most scandalous show, "Revenge," heated up the photo booth with some three-way tongue action from Gabriel Mann, Emily VanCamp and Joshua Bowman.
To check out all the photo-booth photos, click over to VF.com.
PHOTOS: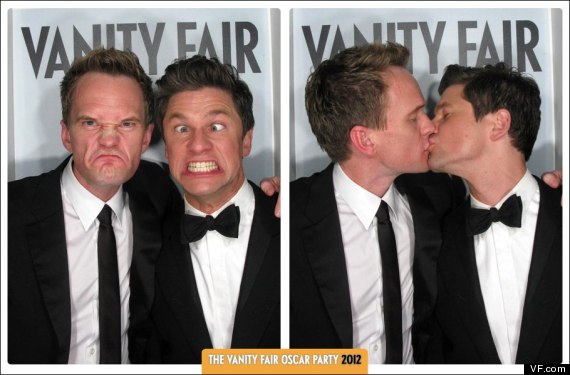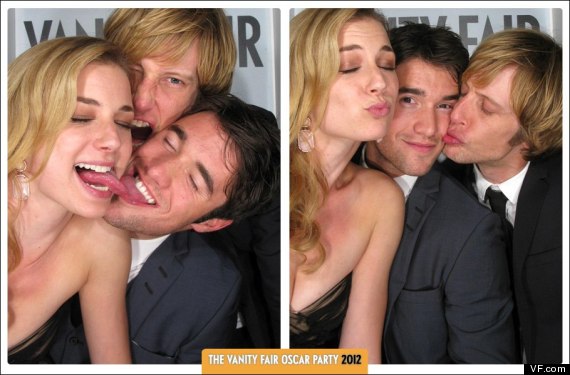 More photos from the Vanity Fair Oscar party:
PHOTO GALLERY
Vanity Fair
BEFORE YOU GO