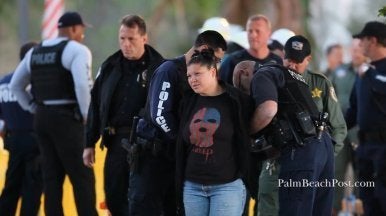 West Palm Beach police arrested four Occupy Palm Beach protesters early Monday morning after city authorities told the activists to vacate the old City Hall last week.
Police spokesperson Allan Ortman said that officers showed up to City Hall around 5:30 a.m. so as not to obstruct rush hour traffic.
While most activists dispersed when officers arrived, four occupiers remained who had "handcuffed" themselves to an air conditioning unit with PVC piping, Ortman says.
Peter Olegovich, 47, was arrested for trespassing while Jacqueline Bryant, 37 of Port Lucie; John Pope, 46 of West Palm Beach; and Frazier Williams, 52, were arrested for trespassing, resisting arrest without violence, and criminal mischief.
Ortman said Williams is homeless and had an active warrant for failure to appear.
Alison Bannon, who works with Occupy Palm Beach, told HuffPost Miami that although Williams lacks housing, he has held the same job for the last ten years and recently had a death in his family.
"Unfortunately a lot of people at the camp are quite economically disadvantaged," Bannon said, "and that is of course due to the absolute abysmal state that the economy has put us in."
Around 20 activists had been camping at the old City Hall on Banyan Boulevard and North Olive Avenue since December 11, Palm Beach Post reports. It was their third encampment site since the movement organized in late October.
On Tuesday, West Palm Beach Mayor Jeri Muoio told the occupiers they had until Thursday to leaves the premises.
Saturday Occupy Palm Beach sent a letter to the mayor, asking for an alternative site for their "participatory democracy" and citing that they have only improved the environment at the old City Hall:
Due to our presence, the space around the old city hall is cleaner now than before our occupation. Drugs and Alcohol are strictly forbidden on the Occupy site, these rules are rigorously enforced. Our very presence helps improve safety in the downtown area. Our 24 by 7 security team is a deterrent to illegal activity in the area, functioning as a default neighborhood watch.

Bannon told HuffPost Miami that the four that were arrested were Occupy Palm Beach's biggest activists. She said Bryant is a mother and full-time web developer and Pope owns his own business.
Olegovich was about to move into a new apartment but decided to stay with the Occupy Palm Beach encampment because he realized "there was a real passion for this cause in his heart," according to Bannon.
Bannon added the protesters chained themselves to the structure to show that "we're not just going to go away. It's not going to be that easy to just sweep us under the rug."