You can make a personalized accessory for yourself or a dear friend with this Craft Of The Day. And, all it takes is just a little bit of sewing to create this adorable monogrammed bracelet, which can make for a very thoughtful gift. Keep reading for the how-to.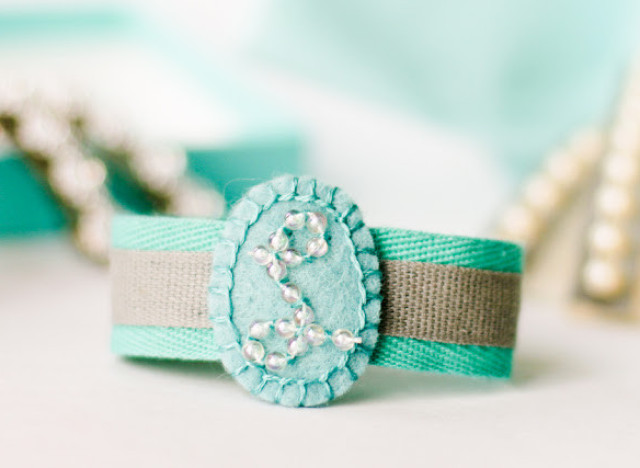 Photo by Anne Weil of Flax & Twine
What You'll Need
Wool felt
Cotton ribbon
Bead Trim
Twill tape
Button
Thread
Shoestring elastic
How To Make It
1. Make a cursive letter with the bead trim.
2. Sew thread between each bead to secure on felt.
3. Cut an oval shape around the letter.
4. Cut another oval in the felt the same size as the first oval.
5. Sew the two shapes together using a blanket stitch.
6. Measure out desired length of ribbon and twill tape.
7. Attach tape on to ribbon by sewing the ends together.
8. Sew a button to one end of the bracelet.
9. Form the shoestring elastic into a loop and sew on to the opposite side of the button.
10. Sew on felt monogrammed oval to the center of the bracelet.
(Tip: Be careful not to sew through the front layer of felt.)
For a full tutorial, visit Flax & Twine. And, be sure to check out the other great crafts in our Craft Of The Day slideshow below.
PHOTO GALLERY
Craft Of The Day