Kick off the new season by bringing the outdoors in with this simple wall planter project. All you'll need are a few adjustable pipe clamps, old mason jars and wooden boards, so the whole project costs less than $20. It's a charming way to add to an empty wall in a hallway or kitchen, and once the planter is up it's pretty easy to maintain -- just make sure it's in a place where there's plenty of sunlight and not to overwater the plants. And whenever you feel like swapping out the plants, you can just unscrew the clamps. Keep reading for the simple how-to.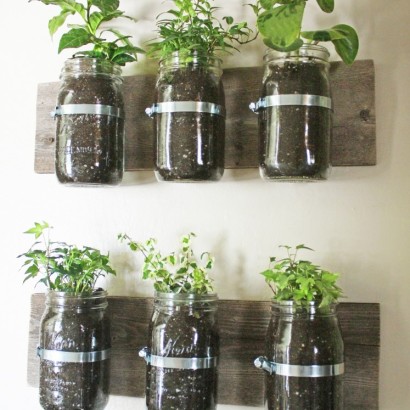 Photo by Stacy Risenmay of Not Just A Housewife

To get the look, start by screwing pipe clamps to an old shelf or a reclaimed wooden plank. Then, locate the perfect wall space for the planter and screw the shelf to the wall. Fill your jars with soil and pot a small plant of your choice. Next, hold a mason jar in place while you tighten the pipe clamp around the glass to secure it. You might want to ask someone for help during this step; you don't want any broken jars on the floor! Repeat this step for as many jars as you want to include for your planter.
For the full tutorial, visit Not Just A Housewife.
Have something to say? Be sure to check out Stylelist Home on Twitter, Facebook and Pinterest.