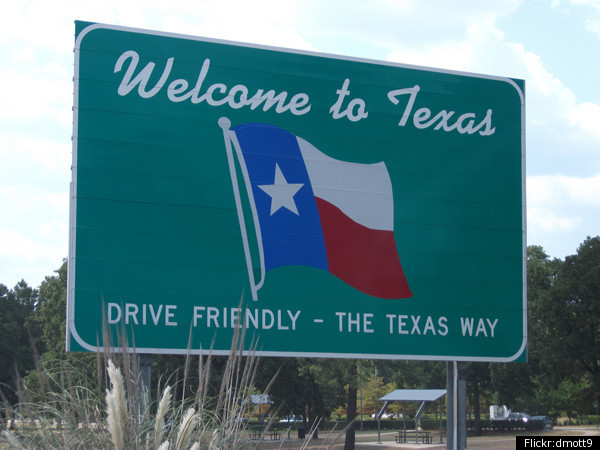 Good news! We're pleased to announce that HuffPost Comedy will be spending the next 10 days in Austin, Texas to cover South By Southwest's amazing Comedy lineup. This year, the festival has announced that 61 total comedians, about twice as many as last year, will perform in stand-up showcases, podcast recordings, panel discussions, interactive events and more.
Last year we sent a sole correspondent to cover the festival, but since SXSW has more comedy than ever, we'll be bringing you more coverage than ever. Our Comedy editors will be on the ground interviewing your favorite comedians, offering up-to-the-minute coverage via Twitter and our liveblog, taking photos and video, and even playing one or two games that we'll announce in the next few days. So whether you're in Austin yourself, or tuning in bitterly from an apartment far, far away, you'll always be up-to-date on what's happening down south.
And since most of the shows will take place at Esther's Follies, we're sure the bar staff will be growing weary of us very, very soon (howdy, y'all!).
For live updates, be sure to follow HuffPost Comedy on Twitter, as well as your HuffPost Comedy editors: Ross Luippold (@rossluippold), Carol Hartsell (@carolrhartsell), Katla McGlynn (@katlamcglynn) and Christine Friar (@drinkyourjuice). We'll also be putting live updates on our Tumblr, so check that out as well.
Also, be sure to follow our buddies at Spinner and HuffPost Culture for live updates from the Film, Interactive and Music portions of the festival.
And finally, to whet your appetites, we've put together a slideshow of some of the comedians we're looking forward to seeing at the festival.
PHOTO GALLERY
SXSW Comedians
Comedy shows are available to anyone with a Platinum SXSW badge or a wristband for the current festival. For more info, check out the official SXSW Comedy website. In addition to the shows previously announced, the Music portion of the festival has announced its tangental Comedy shows. (Previously announced shows can be found here.) The Music shows include:
WEDNESDAY, MARCH 14

Fair Trade Comedy: This stand-up show presented by Brown Paper Tickets and The Spit Take will be hosted by Nick Turner and will feature Todd Barry, Brendon Walsh, Mike Lawrence, Kristine Levine and DC Pierson.
Don't Miss This: A storytelling show featuring Pete Holmes, Joe Wengert, Kurt Braunohler and Chris Gethard.
The Laugh Button Live!: Presented by Gotham Comedy and Slacker Radio, this stand-up show will be hosted by Dan Soder and featuring Amy Schumer, Robert Kelly, Doug Benson and Gary Gulman.
THURSDAY, MARCH 15:
TuneIn Stand-Up Showcase: This show will feature Mike Birbiglia, Jessi Klein, Louis Katz and Andrés du Bouchet.
Made in Austin: A showcase featuring former and current members of the vibrant Austin comedy scene, featuring Brendon Walsh, Mike MacRae, Nick Mullen, Cody Hustak, Martha Kelly and Chris Cubas.
Set List with Paul Provenza: This acclaimed show, hosted by Troy Conrad and Paul Provenza, asks top stand-ups to improvise a routine from invented topics.
Additionally, SXSW will run stand-up showcases at the Esther's Follies and the adjoining Velveeta Room throughout the evening on Friday, March 16 and Saturday, March 17. Performers at those showcases include Kurt Braunohler, Jerrod Carmichael, Chris Cubas, Andrés du Bouchet, Cameron Esposito, Matt Fulchiron, Cody Hustak, Louis Katz, Martha Kelly, Jessi Klein, Howard Kremer, Ben Kronberg, Mike Lawrence, Kristine Levine, Mike MacCrae, Nick Mullen, DC Pierson, Chip Pope, Jonah Ray, Ari Shaffir, Jason Sklar, Randy Sklar, Dan Soder, Dan St. Germain, Beth Stelling, Ryan Stout, Nick Turner, Brooke Van Poppelen, Brendon Walsh and Brandon Wardell.
Of course, all dates and lineups are subject to change. We'll announce any further updates as we learn them.