One year after the tsunami and earthquake that devastated the northeast coast of Japan and left thousands of people dead, Robert Michael Poole and photographer Benjamin Parks traveled to Ishinomaki, one of the worst-hit towns, to ask survivors how the recovery is progressing, about the government's response to the disaster, and how the people are coping.
Survivor: Mori Heizaburo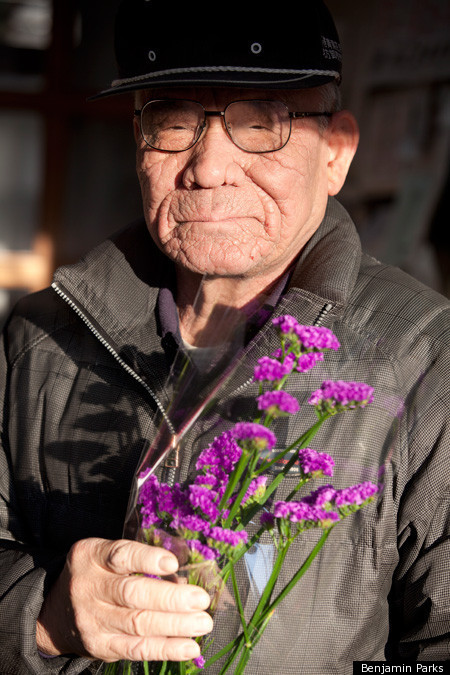 At one of several flower shops in Ishinomaki, funeral-bound white chrysanthemums line the forefront of the store. Behind them stands Mr. Heizaburo, whose smile, weathered by 75 years of coastal living, comes through to warm all those who speak to him.

Where were you when the tsunami struck?
[Heizabur] When the tsunami happened, I was in the mountains.
How did you survive?
There was lots of garbage inside my home. To throw it all away, I'd have needed a dump truck, but it was impossible to get one. So I asked ten people to help clean my house, and it took about five days to finish.
I had to restart my business somehow, so I rented a store in another place. It was in the middle of June. We finally got running water and electricity that month. They came back on earlier there than in other places, because there is a school near my place which made it a priority.
I had to go to shops early, to get survival goods, for about three months. After that, water and electricity finally returned and I was able to get them from the school.
How did it affect you?
There are many people who passed away, and the houses have become wreckage. Now we see few people on the streets.
What is your hope for the future?
I will mainly make a living by working as a wholesaler. Of course I will also keep my shop open, but now the customers are fewer because people here are fewer. Sales have dropped by half.
Is the government doing enough?
They are considering a tax and assistance grant, that's all.
What can we learn from this disaster?
That we survivors are lucky, when we think of how many people who passed away.
How are the elderly coping?
There are so many elderly people who still can't take a bath. It may take one more year to provide them with necessary bathing equipment.

Click here for more Japan 2011 tsunami anniversary coverage.
About the co-author and photographer:
Robert Michael Poole is a Tokyo-based writer, editor and entrepreneur whose work has been published by Newsweek, Wall Street Journal, CNN and Associated Press. He focuses primarily on the Asian entertainment scene, as well as lifestyle, travel and international issues affecting the region.
Benjamin Parks is a Canadian photographer based in Tokyo. He specializes in editorial and corporate portraits as well as product photography and videography. Some of his clients include Eurobiz, Metropolis, In Style, Columbia Law School and Bluetooth Signature magazines as well as Ferrari, DHL and United Colors of Benetton.
More Ishinomaki survivors speak:
PHOTO GALLERY
Tsunami Survivor Stories