Jennifer Love Hewitt takes on a scandalous new role in her Lifetime show, "The Client List," and if her latest Maxim cover is any indication, it's going to be pretty steamy.
Hewitt, 33, graces Maxim's cover for the fourth time, but admits that even though she has been on a few sexy covers in her lifetime, guys aren't exactly lining up to hit on her.
Now that you're single, you must get hit on a ton.

It might sound so stupid, but guys do not hit on me. I'm not really sure why, but it's very rare that a guy will ever come up to me and be like, "I'm going to lay down my game right now, and you're going to like it."

At least that spares you from bad pickup lines.

Well, I did get one that was so bad I gave the guy 10 minutes of my time. He was like, "Are you Irish? 'Cause my penis is Dublin." It was so stupid, but I thought it took some wit at least.
Though she's single now, Hewitt, who split from boyfriend Alex Beh last year, did find herself in some interesting "Bachelorette"-related news last summer. After tweeting about then-"Bachelorette" reject, now "Bachelor" star, Ben Flajnik, rumors began swirling that the two were hooking up.
However, Hewitt put all the rumors to rest in August, telling Ryan Seacrest that though the pair did meet -- by chance -- they weren't dating.
For more from Hewitt, including her take on "vagazzaling" and her new show, "The Client List," premiering April 8, head over to Maxim.
Check out Hewitt's Maxim cover below: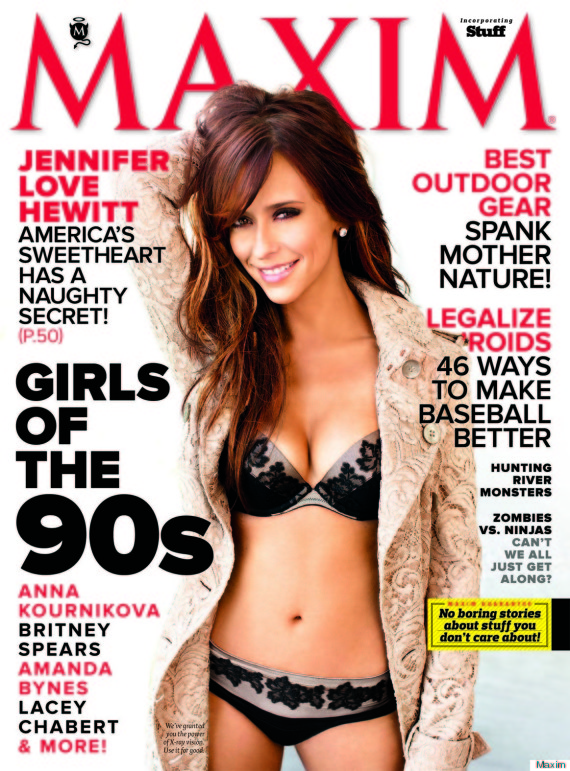 Hewitt isn't the only star to show some skin on a magazine cover. Check out some other racy covers below:
PHOTO GALLERY
Celebrity Playboy Covers
BEFORE YOU GO