As you may recall (if you ever attempt to recall these things), it was Jennifer Love Hewitt who kicked off the "vajazzling" trend a few years back, putting the term into common use after chatting about it on "Lopez Tonight."
But, like BeDazzling jean jackets, we had assumed the trend had fallen out of style. (After all, aren't fur merkins the new trend in bikini line accoutrements?)
Well, we were wrong. In the April 2012 issue of Maxim, Jennifer says that she's still vajazzling (which we spell with a "j" while Maxim prefers the less common "g") in earnest. As she explains to the men's mag:
Well, [vagazzaling]'s a very descriptive term.

The fun part of being a girl is that there are little beauty things you can do to make yourself feel special. I can walk around all day and think, Nobody has any idea that I have a sparkly secret in my pants right now. It kind of took off after I wrote about it in my book, and now I have strangers coming up to me all the time like, "Oh, my God, I'm vagazzaled right now. Want to see?" I'm like, "No, I don't, but congratulations."

Do you still do it?

I do. I was vagazzaled for my Maxim shoot.
We hate to break it to you, Jen, but it's not such a "sparkly secret" if you tell everyone about it. But no matter. "The Client List" actress also has another body part she likes focusing on:
What part of your body are you most proud of?

It's horrible to say, but I like my boobs. They've always served me well. They're good.
See: the April 2012 cover, below. And for more on vajazzling, "The Client List," and Jennifer's favorite hobby (hint: it involves a stripper pole), head to Maxim.com to read Jennifer's interview.
PHOTO: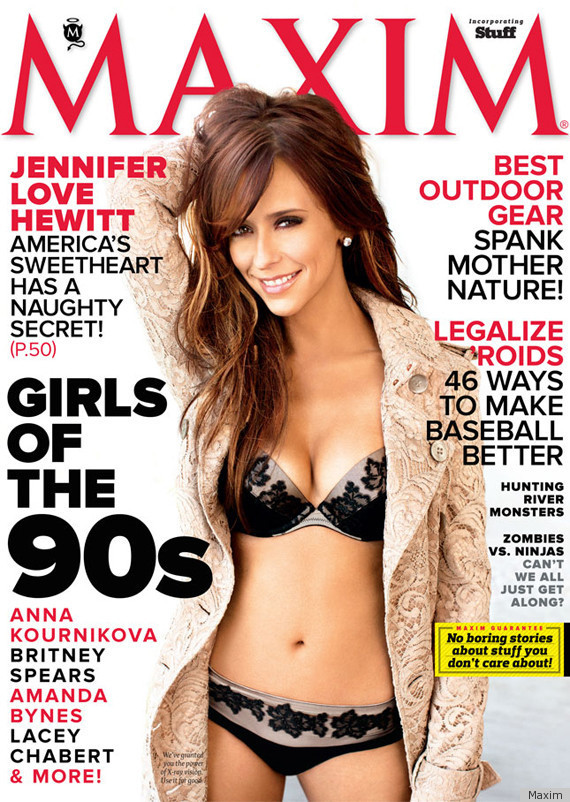 WATCH:
BEFORE YOU GO
See Jennifer Love Hewitt's style evolution:
PHOTO GALLERY
Jennifer Love Hewitt(CLONED)