Since we first glimpsed the movie's trailer, we've been stunned by Julianne Moore's drastic transformation as Sarah Palin in "Game Change." For the HBO film, premiering March 10, Moore completely morphed into the vice presidential candidate, from her big eyes to her voluminous brown hair.
Luckily Palin has a distinctive look, one imitated by fans and comedians alike. But for "Game Change," hair and makeup artists nailed Palin's likeness so well that you almost can't tell Moore and Palin apart. How'd they do?
For one, time. Moore's daily makeup session while filming took two hours, People reports. Her lips were drawn on, her skin deeply tanned and even her face shape altered. "There was contouring," Moore told People. "We have a different architecture to our faces."
Then comes the eyes. "We did this thing with our contact lenses," she said on "The Ellen DeGeneres Show. "Her eyes are so large, big brown eyes -- we made the iris on the contact lens larger than my iris so my eyes would look bigger."
And don't forget the accessories. To achieve that hair, the bouffant that launched a follicle frenzy, Moore wore a wig. She also relied on another faux item: Moore told People, "It was all about the [fake] nails."
Lastly, the specs. "The glasses were exactly the same ones [Palin] wears," said Moore.
So how did they do? Consensus has been that the transformation is eerily good (better than Tina Fey's Sarah Palin get-up, Ellen DeGeneres quipped). "Game Change" co-executive producer Danny Strong told People, "One day a FedEx guy came on the set and said, 'Whoa … is that Sarah Palin?'"
Our thoughts exactly. Check out a picture of Moore and Palin below -- how good a job did the "Game Change" team do turning Moore into Palin? And click over to People.com to read more about Moore's daily transformation.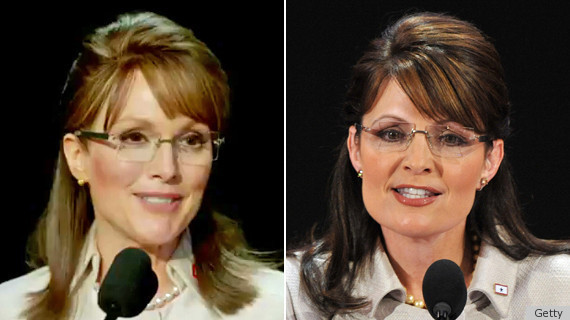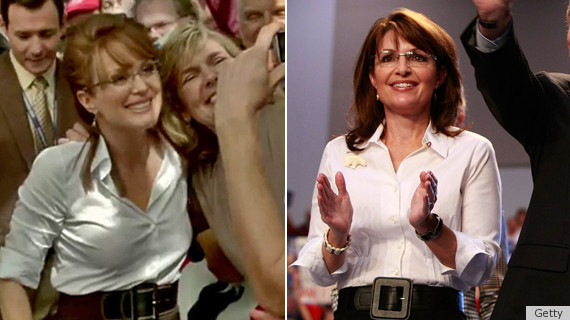 Watch the trailer: