LA's biggest rock star will be out on the roads one last time Friday night, and if you still haven't had the chance to watch a 340-ton chunk of history go by (and snap a mean meme photo), now's your chance.
There's no telling beforehand when the rock will be at certain points along the route. At speeds between 5-8 miles per hour, "Levitated Mass" could arrive on the LACMA campus anywhere between 2 a.m. to 6 a.m. Your best bet is to follow the rock's official Twitter account @LACMA for up-to-the-minute updates.
If you want to see the rock roll into its new home (and snag some munchies while doing it), here are LACMA's suggestions:
The museum itself will be closed, but the action is on Wilshire Boulevard.
Parking will be available in LACMA's lot at the corner of Wilshire and Spaulding Avenue (free). Our underground Sixth Street lot will be closed.
Parking at the Petersen Museum, located on Wilshire and Fairfax, will also be available (10, enter from Fairfax). You can try to find street parking too, but please read all signs in the area before parking.
There will be bathrooms available at Ogden and Wilshire, directly across the street from Urban Light.
Note that Stark Bar will be open regular hours -- closing at 11 pm. We will have a coffee cart next to Urban Light starting at 11 pm.
Food trucks will be parked at Ogden and Wilshire -- No Tomatoes and Waffles de Liege.
View Levitated Mass in a larger map
The rock's Twitter alter ego, @LACMArock, is cheeky, fun and definitely an unofficial account. Nevertheless, he's been accurate and helpful to date, and we got in touch with him for tips on how to see the rock show on Friday night.
"A great place to get a glimpse of me as I head down Wilshire Boulevard to my new home at the Los Angeles County Museum of Art is from The Roof on Wilshire, atop The Hotel Wilshire," @LACMArock told the Huffington Post. "The view from the rooftop will give rock stars like you a 180 degree view of Wilshire Boulevard and an incredible vantage as my 300 foot long transporter drives past."
@LACMArock even has a cocktail picked out. "While you wait for me, I suggest you sip on The Roof's signature drink, the 'Tell Her You Saw Me.' " Poetic! Mind you, The Roof on Wilshire will be keeping its normal hours that night, so if the rock hasn't rolled on to Wilshire Boulevard by 1 a.m., you'll have to scramble to a different spot.
Gourmands should note that 13 of Jonathan Gold's 60 recommended Koreatown restaurants are right on the Western Avenue strip that the rock is going to travel on. Nibble on boiled pig's feet at Jangchung-Dong Wong or slurp slithering octopus tentacles at Hwal A Kwang Jang and wait for the show to come to you.
Pro tip: smart "Levitated Mass" fans would do well to take advantage of the Purple Line station at Wilshire/Western, since a lot of streets near the route will be closed to traffic.
Where are you planning to catch the rock show?
03/12/2012 2:45 PM EDT
What It Was Like To Cover The Rock
LA Times arts journalist Deborah Vankin wraps up months of coverage with this post about what it took to completely cover "Levitated Mass," from the installation's inception to its arrival at LACMA:
For me, it was the interminable "next week's story," forcing me to cancel interviews, dinner dates and out-of-town visitors at the last minute so I could travel with the rock; then departure dates inevitably turned into false alarms, usually because of one permitting snag or another. That start-and-stop routine reached a hip-hop frenzy by mid-February.
Read more about the cold, the (lack of) bathroom breaks and the Twitter malfunctions at the Los Angeles Times.
03/12/2012 12:37 PM EDT
That Was A Crazy Weekend
Miranda Carroll, LACMA's Director of Communications, gives a graceful and coherent interview after being awake for 48 hours straight, just hours after the rock arrived at LACMA.
"We're just glad it's here now," Carroll said to CBS.
Now all LACMA has to do is dismantle the transporter and pop the rock into place in its new installation. No small feat!
WATCH:
03/10/2012 9:04 AM EST
That Was A Long Night
We were there when "Levitated Mass" arrived safe and sound at LACMA, and it was so beautiful to finally see it rolling up to its final destination.
You can follow the night's progression into morning at twitter.com/HuffPostLA, where we live-tweeted the rock's journey from Koreatown to LACMA. But for now, here are the highlights:
Browse the photos above to see the rock's journey from start to finish. If you'd like to send us any pictures, tweet them to @HuffPostLA.
03/09/2012 4:35 PM EST
How The Rock Is Keeping Warm On Its Journey (High-Thread Count Egyptian Cotton Sheets)
In an interview with the Los Angeles Times, LACMA director Michael Govan reveals how the rock is being protected from scratches and bumps along the road:
It was Michael Heizer who wanted to protect it from scratches, he was treating it very carefully. So he proposed that it be shrinkwrapped. It's swaddled in high-thread-count Egyptian cotton sheets, placed between the wood blocks and the rock so as it's moved it's cushioned even further. It looks very cool, this white form, at night.
Read the whole interview about how Govan hopes "Levitated Mass" will impact LACMA and Los Angeles.
03/09/2012 3:01 PM EST
Resting for the final leg of the journey
@ LACMA :

Update: after its early start last night, the transport made up its miles and arrived to Figueroa, north of Florence. #LevitatedMass
03/08/2012 7:11 PM EST
Making Up For Lost Time
Wednesday night's journey was cut short about 3 miles because of an overlooked utility pole and spots where the road got super-skinny.
The Los Angeles Times has more on what slowed the rock down:
On Atlantic Avenue near Spring Street, the 200-foot-long transporter carrying the rock found itself squeezing through its tightest spot yet. Because of a concrete island in the middle of the road, there was at best only two inches of space between the curb and the transporter's 176 wheels. At times, there was "zero clearance," said Emmert's Terry Emmert.
Hopefully, "Levitated Mass" can make up for some lost time tonight!
03/07/2012 12:49 AM EST
Has 'Levitated Mass' Become A Meme?
ArtInfo asks, "Has LACMA's 'Levitated Mass' Boulder Become a Meme?"
This adorable picture of a little "Levitated Mass" fan holding the rock in the palm of her hand says yes.
Photo by Katrina Serrano.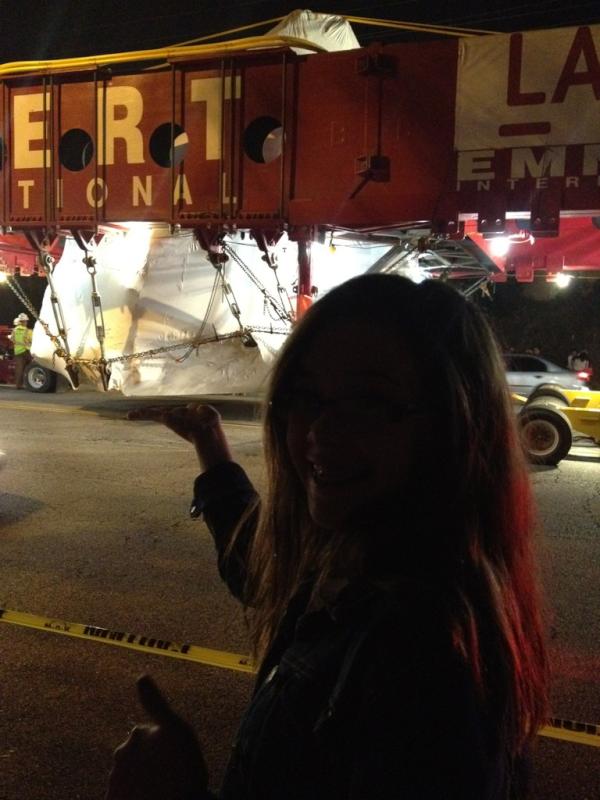 03/05/2012 8:49 PM EST
Road Closures For 'Levitated Mass'
Now that the rock will be crawling into the more trafficked-parts of Los Angeles, road closures and timing are going to become more critical for Angelenos.
LA Weekly breaks down LACMA's route day-by-day (from 10 p.m. to 5 a.m.):
Monday: Leffingwell Road > Valley View Avenue > Rosecrans Avenue > Carmenita Road > Moody Street > Del Amo Boulevard > Studebaker Road > South Street.

Tuesday: South Street > Paramount Boulevard > East Del Amo Boulevard > Atlantic Avenue.

Wednesday: Atlantic Avenue > West Ocean Boulevard > Magnolia Avenue > Pacific Coast Highway > Avalon Boulevard > East Carson Street.

Thursday: Vermont Avenue > West 190th Street > Normandie Avenue > Artesia Boulevard > South Western Avenue > West Florence Avenue > South Figueroa Street.

Friday: South Figueroa Street > West Adams Boulevard > South Western Avenue > Wilshire Boulevard > South Fairfax > West Sixth Street > LACMA.
The Department of Transportation has released this list of rolling road closures throughout the week, but since LADOT only deals with the roads within the city limits, this list of impacted streets only applies from Wednesday night to Friday night.
Pacific Coast Highway: from City of Carson limits to Vermont Ave.
190th St.: from Gardena city limits to Western Ave.
Florence Ave. & Figueroa St.
Adams Blvd. & Western Ave.
Wilshire Blvd. & Fairfax Ave.
LADOT's list of streets make up stops 7-9 on the LACMA route map.

View Levitated Mass in a larger map
03/05/2012 11:23 AM EST
Rolling Away From Rowland Heights
Photo by Twitter user ChiaAnnie.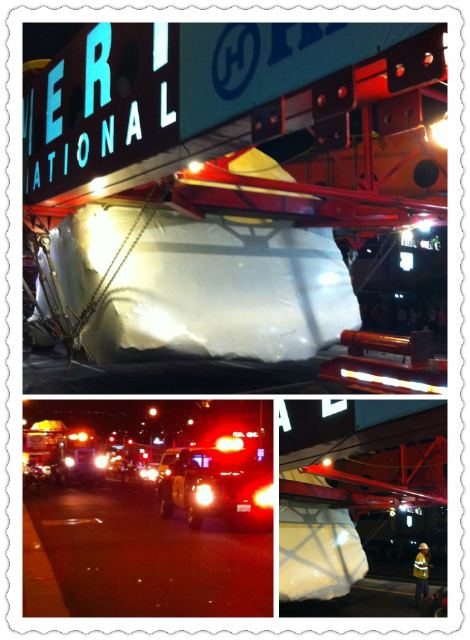 03/05/2012 11:21 AM EST
Hee Hee
@ FakeDeitch :

It's times like this weekend when I'm happy I'm not Michael Govan #levitatedmass #bigrock #lotsofpaperwork #imtelaxin'