Greetings from Texas! For the next 10 days, HuffPost Culture will be bringing you the best cultural news, thoughts and trends to come out of SXSW 2012. From the forward-thinking panels on where the future of the arts lies (iPad?) to the international music to Fiona Apple, we'll keep the news, big and small, rolling out here.
We'll also be tweeting our coverage, which you can follow @HuffPostCulture, along with your HuffPost Culture editors, Gazelle Emami (@gazellephant) and Mallika Rao (@mallika_rao).
And be sure to follow our friends at HuffPost Comedy, Spinner and Moviefone for even more coverage.
03/19/2012 11:59 AM EDT
Overheard on Sunday AM
'I love SXSW, but I am fucking happy it's over.'
03/19/2012 11:56 AM EDT
Of Montreal Crowd Surf Maintains Horizontal Integrity
We think this is Bryan Poole: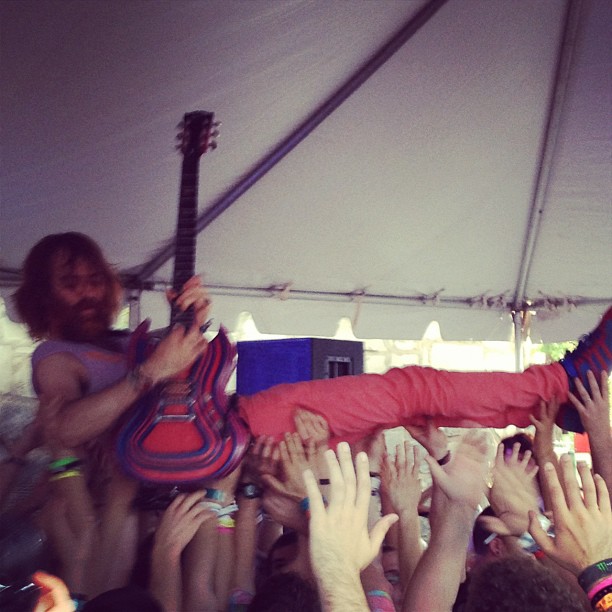 The band that inspires exclamatory coverage of their genitals performed at Clive Bar Saturday evening, and our friend Hannah Fearheiley instagrammed this excellent shot of, we think, Bryan Poole. If you know any better, comment away plz.
03/18/2012 11:45 AM EDT
Our Friends At Spinner At the MOG Party
@ Spinner :

The Roots blurred genres, Bob Mould played Sugar faves and Blitzen Trapper made it look easy at the MOG party at #sxsw http://t.co/vnku7RxF
03/18/2012 11:39 AM EDT
Norah Jones Plays Her New Album In Full
"It's a little scary sharing these songs with new people, but we're all friends, right?" she asked a crowd of a few hundred.
This was just the second time she's played in public the stylish yet deeply emotional material on the 12-song collaboration with Danger Mouse, out May 1.
-The Associated Press; go here to read more about the concert
03/18/2012 11:36 AM EDT
Secret Guest
After hearing rumors in the crowd that the Fader Fort's special guest could be anyone from Lil Wayne, Jay-Z, Deadmau5, Drake or Sleigh Bells, we ended up with none of the above, but a crowd-pleaser nonetheless: Rick Ross, ladies and gentlemen.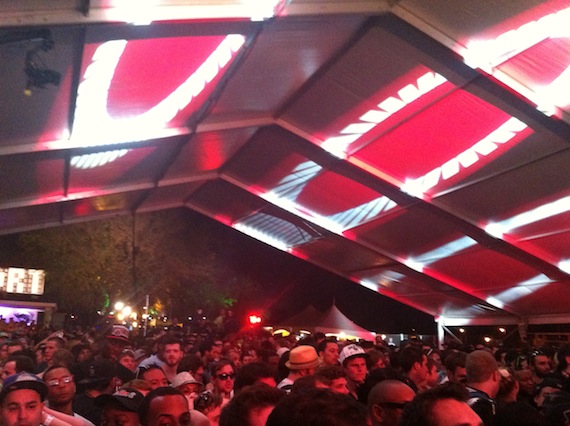 The crowd waits for the big reveal.
03/17/2012 3:54 PM EDT
Courtesy Of Titos
Who sponsored just about half of SXSW shows.
Tito's takeover: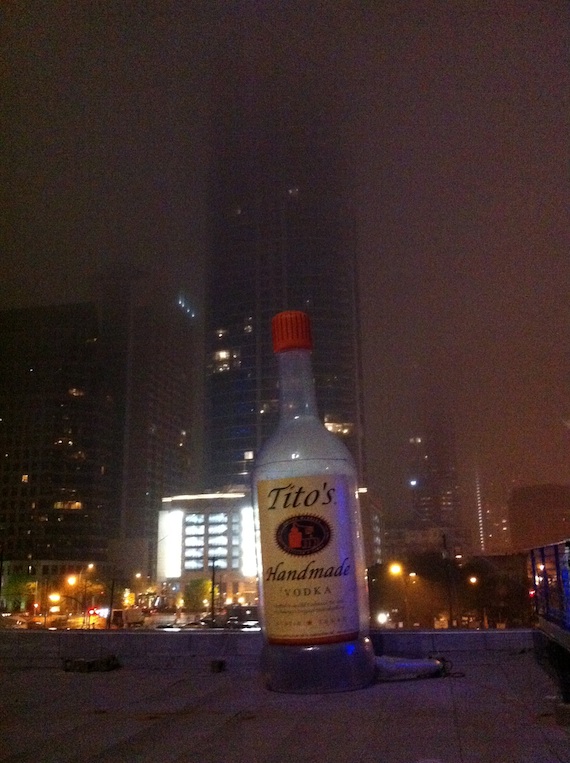 03/17/2012 3:54 PM EDT
A Dog Takes It All In
A pretty dog takes in the scene in East Austin on Friday evening.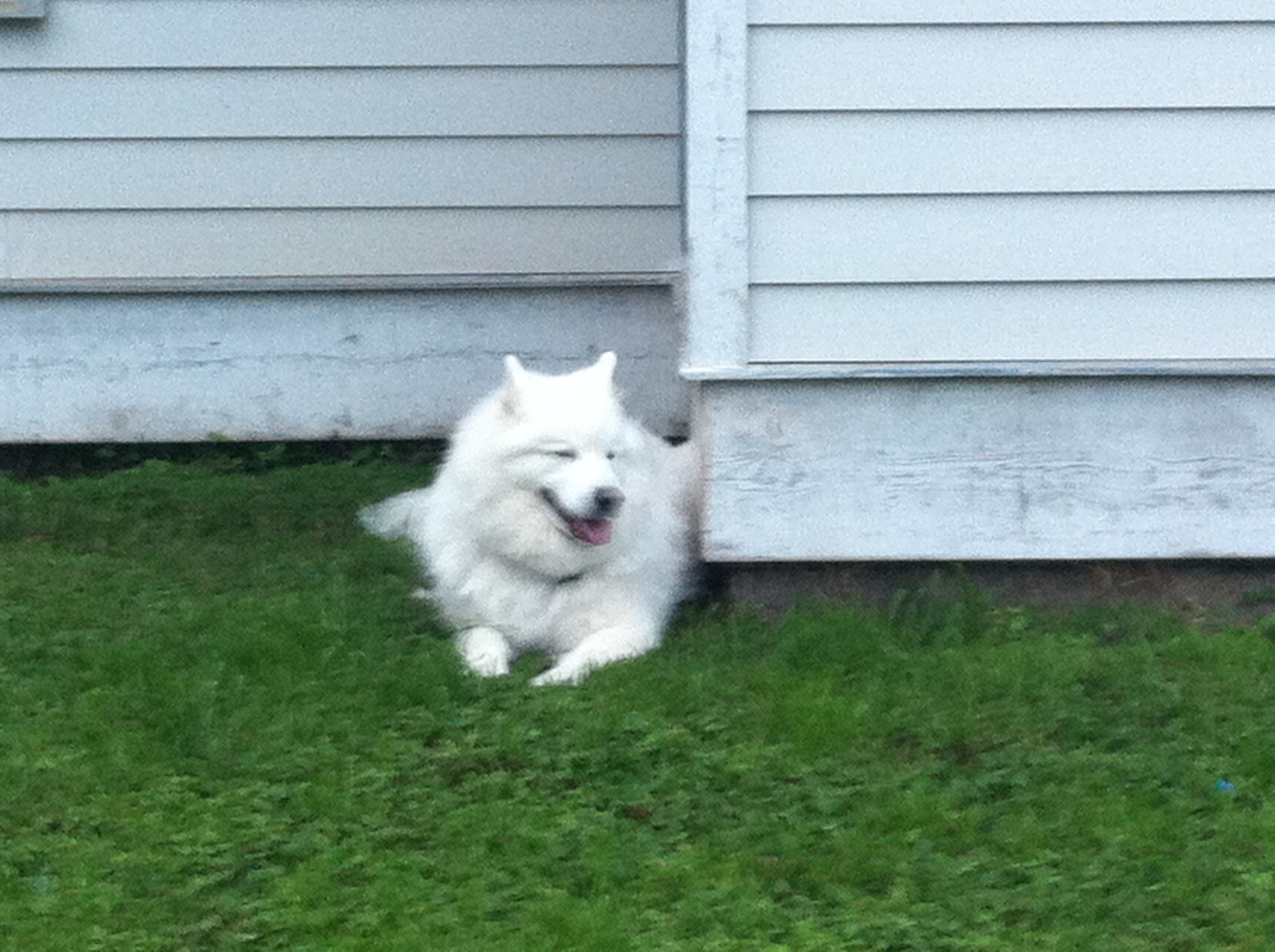 03/17/2012 3:34 PM EDT
Wiz Khalifa
Wiz gets ushered into the front door of Vibe's party featuring Snoop Dogg, Timbaland, Big K.R.I.T. and more on Friday night. We sadly didn't make it inside this one, but hey! We saw Wiz, and a really rowdy crowd waving $100 bills trying to get in. So, evens out?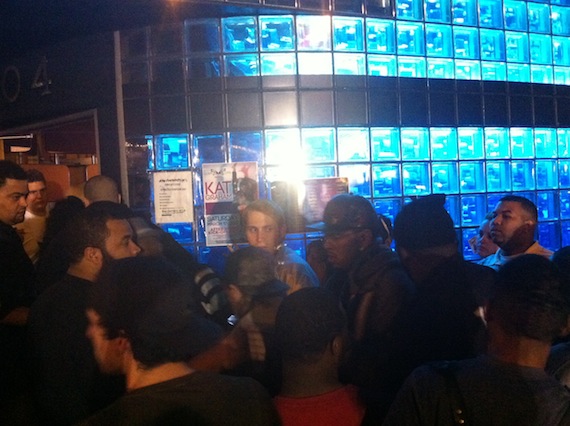 03/17/2012 3:05 PM EDT
Last Day
We're heading to our favorite place to hang today -- the Fader Fort -- for a final day of music. The lineup includes SBTRKT, Mr. MFN eXquire, Dive, Kindness, Pure X, Nicolas Jaar and special guests -- we've heard rumors guests will include Lil' Wayne, but really it's anyone's guess. Follow along with Fader's livestream, and check back for the big special guest reveal!
03/17/2012 2:04 PM EDT
Riots On The Streets Of Austin