Has Irish budget retailer Primark ripped off Prabal? Many -- maybe even the designer himself -- seem to think so.
Bloggers for The Fashion Law noticed the similarity between Primark's newest products and Prabal's, posting an Instagram picture of the store's window display with several bright dresses sitting front and center.
The most noticeable is a yellow and black floral print frock that bears a striking resemblance to Look 2 from Prabal Resort 2012, a dress once worn by Sarah Jessica Parker.
Primark's website displays several additional looks that seem to evoke the designer's Resort line, including the white and green "Colour Block Shift Dress" with black sleeves and a white "Contrast Blouse" with a pink and black placket, which look similar to Prabal Resort 2012 looks 12 and 3, respectively. (see below).
Some have also suggested that the purple dresses in the store window evoke Prabal's Spring 2012 line, which was full of purple watercolor and optic prints.
As The Cut noted, "making purple dresses is still perfectly legal this season." But if Primark was aiming to replicate Gurung's designs, it wouldn't be the first time. According to the Daily Mail, Primark has been sued multiple times in the past for copying other brands and designers, such as textiles company Ashley Wilde Boulevard in February 2011, Superdry in 2010 and women's clothing store Monsoon in 2004.
Gurung has commented over Twitter, responding to tweets about Primark's window with the comment, "Oh boy looks like it TY 4 lettin us know." But no word on whether Prabal will pursue Primark or take any further action.
For now, check out Primark's spring looks in both the store window and the website. Do you think the items look too similar to Prabal Resort 2012?
Oh boy looks like it TY 4 lettin us know rt @nickgfromdc: Wow is that primark ripping off @prabalgurung ? instagr.am/p/H66_x-OpXG/

— prabal gurung (@prabalgurung) March 8, 2012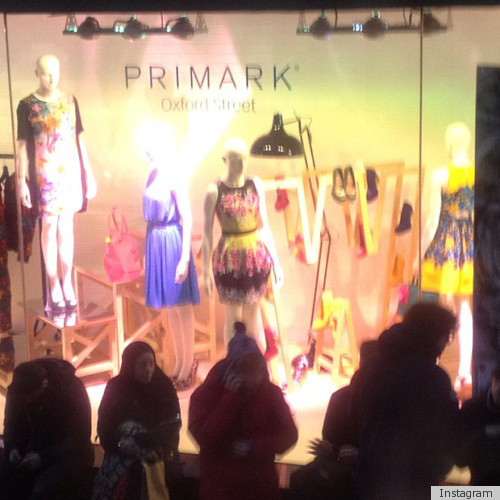 PHOTO GALLERY
Prabal Resort 2012