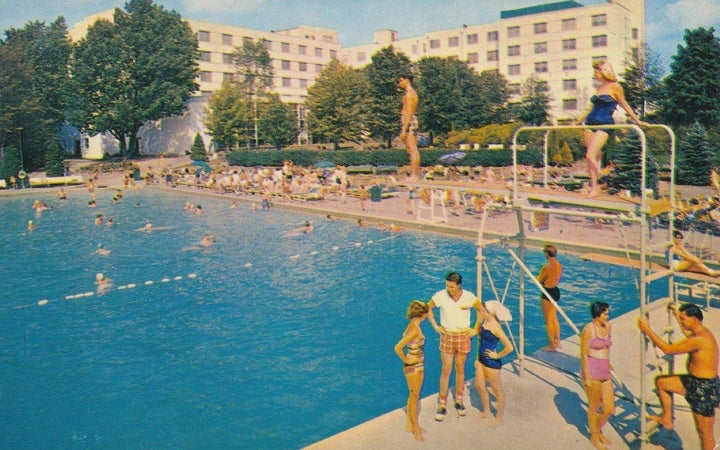 From the 1920s to the 1970s, the Catskills were full of resorts popular amongst New York Jews--so popular in fact, the area came to be known as "The Borscht Belt" or "The Jewish Alps." (Yes, it was these resorts that were later the inspiration for "Dirty Dancing.") (PHOTOS BELOW).
The Borscht Belt began to disappear in the 80s, however. "You gain acceptability and assimilation, but you lose Eden," Stefan Kafner, author of "The Summer World " told The New York Times of Jewish immigrants and the Borscht Belt. "You cannot have them both. As the Jews became more fluent in English, as they became more fluent in Americana, the Catskills became more of an embarrassment. That was where your grandparents went. Maybe your father or mother. But a girl's not going to go up there to meet a guy. She's going to go to a singles bar. She's going to join a professional organization. It's just not done that way anymore.''
Jordan Smith, a collector of old advertisements, antiques and postcards (check out his Flickr here), was in a store one day when he stumbled across a picture of a Borscht Belt hotel-- The Concord. "I found one postcard of the Concord Hotel at an antique store in Southern Michigan," he told HuffPost New York. "I didn't know anything about it, but I really liked the aesthetics of the place. Once I learned the history and what it had become, I started hunting for more postcards to share with people to show what a gigantic and fabulous place it once was."
And now, a phoenix is rising on the remnants of the old Concord Hotel in the Catskills. Plans to develop a $600 million resort with gambling are being revived, and this time with some real momentum. Maybe the Borscht Belt will have a renaissance?
Check out Jordan's colorful collection of Concord postcards of the Borscht Belt in its prime, a lost summer and skiing paradise -- plus a few of how the abandoned site looks today.