A groom died in a fight at his bachelor party in Kansas City early on Sunday -- a day before his 26th birthday and shortly before his wedding day.
Jacob Jarozewski, a waiter, was celebrating his upcoming nuptials at a friend's home, according to KSHB-TV, but was found dead on the living room floor before 5 a.m.
But what exactly happened is still a mystery. Friends and family told KHSB that Jarozewski was drinking the night he died. They also revealed that Jarozewski -- a fan of jujitsu and mixed martial arts -- was fighting that night.
A man who allegedly fought with Jarozewski was taken into custody by police Sunday, but cops released him without charges after questioning him, according to Fox 4 Kansas City.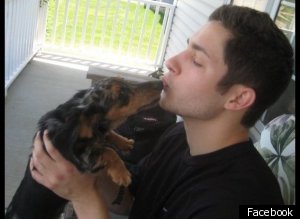 Jarozewski would have married Alyx Aikmus March 24. The bride's father praised Jarozewski, who was also studied at a technical college.
"He was full of life and always had a smile on his face," Tom Aikmus said, KCTV reported. "He made my daughter very happy."
Investigators -- who have not ruled out filing charges -- are awaiting the results of toxicology tests.
BEFORE YOU GO