In honor of House Beautiful's March issue, the home decor magazine takes the celebration of all things (and shades) green to an interactive level with a chair scavenger hunt giveaway and charity auction.
From now until March 28, support our country's troops and veterans by bidding in House Beautiful's online 'Chair-ity Auction'. The magazine offers up a curated selection of quality green-hued chairs from the likes of Crate and Barrel, American Leather, Room & Board, and other notable brands and designers.
And, although it's a chance to nab a designer piece possibly below the retail price, the real value here is how all net proceeds will benefit Homes For Our Troops. Since 2004, this nonprofit organization has helped build custom homes for our country's severely injured military men and women. As a huge component of the 'American dream' often consists of living in a safe and secure home, there are no other individuals more deserving of this reality than the people who have sacrificed their safety for ours -- and the folks at House Beautiful agree.
"Right now we're wrapping up the war in Afghanistan ... We can't forget these guys that are coming back," says House Beautiful Editor-in-Chief Newell Turner. In fact, Turner tells us that although it's often easy to disassociate from what is happening overseas, "it's just worthwhile" to provide housing for our injured servicemen and servicewomen.
So no matter your political viewpoints, honor those who've risked their lives and participate in House Beautiful's charity auction, exclusively viewed at CharityBuzz. It's your chance to give back, and maybe even win a piece of green furniture glory.
However, if you're looking for green seating that's a little more ... well, free, and you live in or near the Washington metropolitan area, get ready to fight for it. On March 13 and 14, follow House Beautiful's Twitter and Facebook for clues to iconic Washington, D.C. locations. There, you will find one of 19 beautifully made green chairs from designers and brands like Arhaus and La-Z-Boy.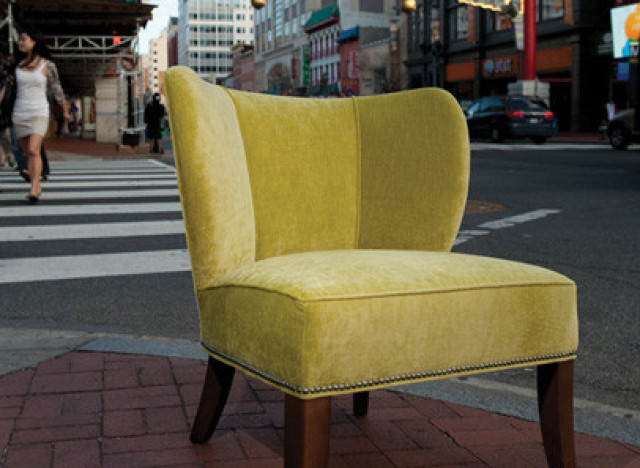 Arhaus Modesto Chair. Photo courtesy of House Beautiful
"I don't know what's going to happen. It'll be fun to see and track," says Turner, who also mentioned the two previous years' blue- and pink-chair scavenger hunts were a success. "Last year, we had people manically following us and racing to places."
Winners are on a first-come first-serve basis, but whomever grabs the Modesto (pictured above), Arhaus' lime green butterfly chair on sale for $999, the furniture brand hopes it'll be "someone who appreciates the same thing we do: Quality and value," says Arhaus' Amanda Givens. What's more, this chair is another type of green -- as in friendly to the environment. All the wood is FSC-certified and locally harvested, the glue used for construction is water based, and even the foam is soil based.
So, whether it's Arhaus' long-lasting made-in-America Modesto chair or the 18 others, with a city full of monuments and historic neighborhoods, we say good luck to you. When it doubt, camp around the White House, major memorials, and the ever-popular Georgetown Cupcakes -- we're just guessing, but a sweet consolation prize wouldn't hurt.
Have something to say? Be sure to check out Stylelist Home on Twitter, Facebook and Pinterest.