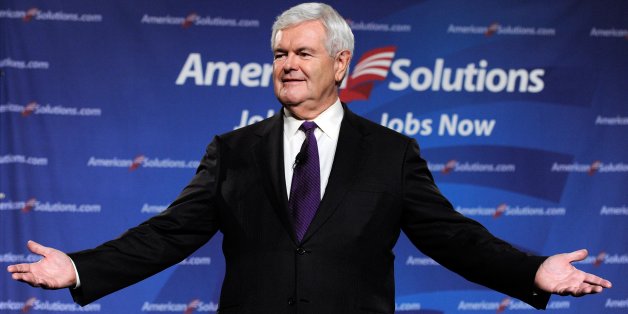 Newt Gingrich is not going down without a fight.
While campaigning in the Chicago suburbs on Wednesday night, the former House Speaker passed on pounding his GOP rivals, instead lashing out at the overall state of American politics. The Washington Post reports that during a dinner in Palatine, Ill., Gingrich called the nation's political system "so methodically and deliberately stupid," adding that Americans could be provided with a "dramatically better future."
To generate that better future, Gingrich reiterated that he has no plans to exit the GOP presidential race. In the nearby suburb of Elgin, Newt drew upon religious scripture, telling the Chicago Sun-Times that he is staying in the race "because I think Proverbs was right when it said that 'Without vision people will perish.'"
As he made his way through the battleground state, Gingrich did present a more positive side.
Asked in Barrington, Ill. on Thursday about why he once summed himself up in a word as "cheerful" at an Arizona debate, Gingrich gave a comprehensive list. Via MSNBC First Read:
"I love life. I love getting up in the morning. I love seeing what the weather is going to be. I love animals. I love the process of interacting with people. I like learning. So I really am basically cheerful everyday because in my mind everyday is cool; I am still here."
Gingrich's Illinois efforts come on the heels of a disappointing March to date. Minus winning his home state of Georgia, the former House Speaker came up empty handed on Super Tuesday. Last Tuesday, he lost the southern footholds of Mississippi and Alabama to Rick Santorum. Illinois' March 20 primary has 69 delegates at stake -- 15 unbound and 54 bound.
BEFORE YOU GO