Keeping company in the art world doesn't only lead to a nice leisurely lunch, it leads to whole movements; think of Braque and Picasso, or Rembrandt and Degas. These duos influenced each other's work in profound ways.
For a new show at the Museum Jorn in Denmark, the kinship between Belgian artist James Ensor and the avant-garde Danish artist Asger Jorn is put on full display to show the importance of one artist's legacy on another. As early as 1937, a young Jorn made a trip to the private Ensor collection of Herbert von Garvens and immediately became fixated on the Belgian artist's grim sense of humor. Ensor was part of "Les XX," a legendary group of influential Belgian artists who formed in the late 1800s and included Pissarro, Monet, Gauguin, van Gogh, and others, and his impact can still be felt today.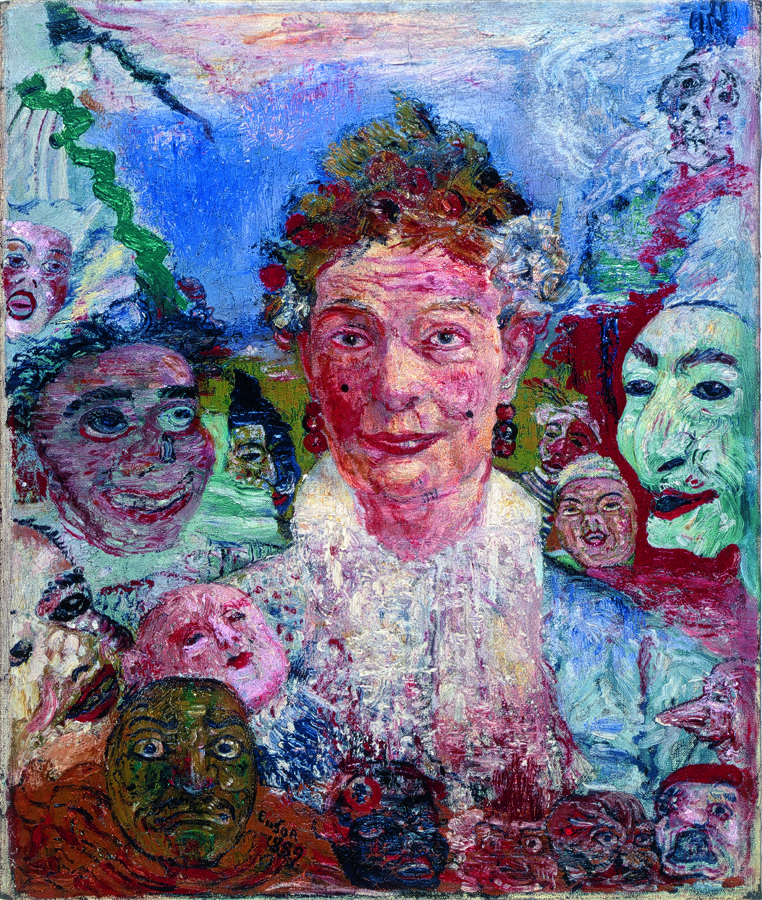 James Ensor: "Vieille femme aux masques" [Old Woman with Masks]; oil on canvas; 54 x 47,5 cm; 1889; Museum voor Schone Kunsten, Ghent, Belgium; (c) SABAM, Brussels, Belgium.
Jorn's work employs the same coy tone as Ensor in "jorn | ensor" despite the fact that the subjects seem a bit forlorn and hopeless. When Jorn began to alter cheap paintings from flea markets in the early '60s, he created a clever tribute to Ensor with "Ainsi on s'ensor" ("Out of this World - after Ensor"), which is seen in the slideshow below; it's a depiction of a man hanging from a noose decorated with a colorfully goofy mask reminiscent of Ensor's unique style.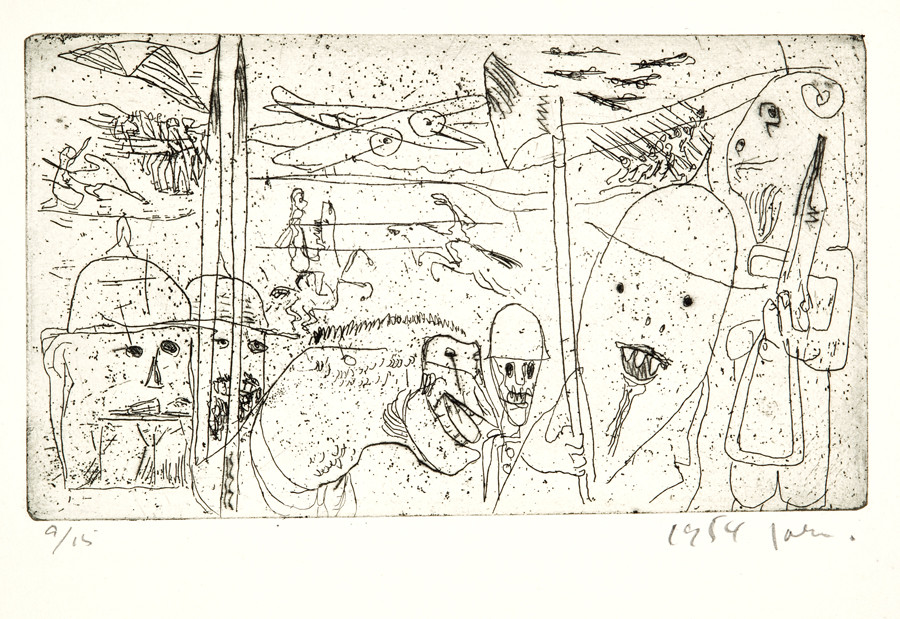 Asger Jorn: "Schweizer garde" [The Swiss Guard]; etching; 102 x 175 mm; 1961; Museum Jorn, Silkeborg, Denmark; (c) Donation Jorn, Silkeborg.
Showing for the first time in Denmark since that fateful 1937 exhibition, "jorn | ensor" is notable for its commitment to portraying Ensor rightfully as one of the most important figures in modern European art. If all he had managed to do was inspire a single artist it would be enough, but Ensor's figures are weirdly wonderful in their own right, sort of like a monster you can't help but cradle gently.
What do you think, readers? What artists do you pay tribute to in your own work?
"jorn | ensor" will be on display at Museum Jorn until June 5th, 2012. Get a glimpse fo their creepy world below.
PHOTO GALLERY
James Ensor
BEFORE YOU GO