"CBS This Morning" host Gayle King was reportedly mistaken for "Good Morning America" host Robin Roberts on Friday when she was walking through LaGuardia airport.
Roberts tweeted that she had just arrived at the airport when a security guard told her she had just missed King. She wrote, "@GayleKing I apparently just missed you at LGA. Woman at the gate buzzing that she saw you and Randy Jackson. Safe travels!"
King replied and said that she had just emailed Roberts since there was more to the story. King wrote, "@RobinRoberts just sent you email tmz guy thought I was you I told him all black people do NOT look alike! But I will take that compliment."
In actuality, it seems as though the spotting was a double fail. "@GayleKing HA! And I found out the woman was mistaken about Randy Jackson..it was actually Rueben Studdard. She was excited about YOU!" Roberts wrote. King replied that she was confused at first since she saw Studdard at the airport but not Jackson.
King and Roberts are not the only African American morning hosts to face this situation. During an appearance on "The Wendy Williams Show," "View" host Sherri Shepherd discussed how she is repeatedly mistaken for former "View" host Star Jones.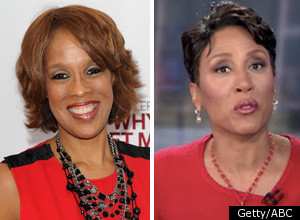 BEFORE YOU GO
Morning show hosts:
PHOTO GALLERY
Morning Show Hosts