Time magazine doesn't often feature food-related topics for its cover, so it's a fairly safe assumption that when a chef graces the cover, he is officially a Big Deal. Chef Rene Redzepi appears on the March 26 issue of Time in Europe, Asia, the Middle East and the South Pacific. He's not on the cover of the U.S. edition, but the story, written by Lisa Abend, appears inside.
Rene Redzepi has not exactly been desperate for media attention. Noma, his Copenhagen restaurant that features foraged cuisine, has received accolade after accolade, and boasts two Michelin stars. Some people think the restaurant was snubbed this year by not receiving a third star.
So why didn't Redzepi make the U.S. cover? The magazine's editors must think American readers are more interested in the fact that women are overtaking men as America's breadwinners than they are in an influential figure in the food world.

Check out the full cover below and if you're a subscriber, read the story here.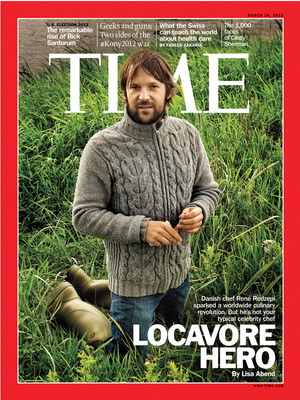 BEFORE YOU GO