The best pieces can be uncovered from the unlikeliest of places -- just ask Hannah Flora, who found this worn wooden cart near a pile of trash. In very little time though, this bar cart was transformed from shabby to retro-chic with just a bit of primer, spray paint and fabric. And though you may not have the exact cart, the idea behind it is translatable. It's perfect for when counter and furniture surface is limited. What's more, you can easily wheel the cart to any room you please -- an efficient option when entertaining guests. And for a more permanent fixture, a cart can also work as a stunning side table. The possibilities are endless. To see the simple how-to, keep reading.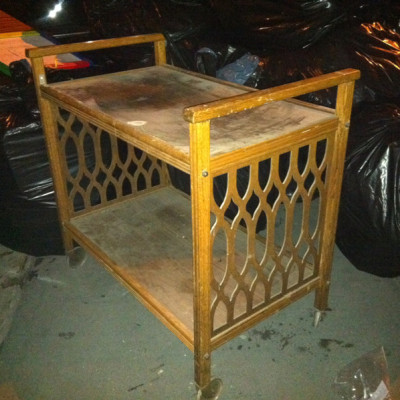 Flora's cart was abandoned on a New York City street. Photo by Hannah Flora
To give an old cart a new look, cover the wheels with tape to prevent any paint from staining them. Then, coat the cart with a primer. After the primer has dried, spray paint the cart with the color of your choice and let dry. Finally, measure out fabric to the size of the cart's shelf surface and cut. Use Matte Medium to apply the fabric to the top of the shelf. You can also use contact paper for easier application. And now, you have a modern portable cart that can store anything from your favorite liquors to your vast collection of magazines.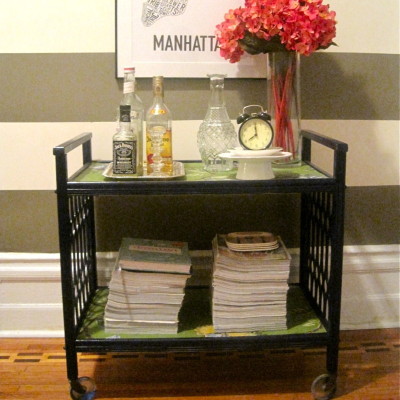 Photo by Hannah Flora
For the full tutorial, visit Hannah Kate Flora.
Have something to say? Be sure to check out Stylelist Home on Twitter, Facebook and Pinterest.
BEFORE YOU GO