Daphne Groeneveld has been in the biz since 2010, but the Dutch model landed on our radar when she appeared on LOVE's roundup of teary-eyed covers with the likes of Lara Stone and Kristen McMenamy.
This month she's got another cover that's caught our attention. Groeneveld poses for Self Service, the Paris-based fashion and culture biannual mag, with just her face visible, styled with high-impact makeup: dark, mascara coated eyes; deep red lips; and those shocking invisible eyebrows.
The photo, snapped by Alasdair McLellan, is most eye-catching for the bleached-out brows that we became accustomed to during "The Girl With The Dragon Tattoo"'s high-profile run. For the film, makeup artist Pat McGrath turned sweet Rooney Mara into tough, mysterious Lisbeth Salander by bleaching Mara's eyebrows to the point of invisibility. The same went for H&M's "Dragon Tattoo" inspired clothing line, for which the models posed with bleached brows.
But we sort of accepted the bleached brow look as a "Dragon Tattoo"-era thing, not assuming the style would stick. In reality, the no-brow look is fairly shocking -- we nearly ran smack into a stranger in Starbucks recently after staring too long at her scarily bleached-out brows (yes, people are actually doing it in real life).
Check out Daphne's invisible brows below. Do you dig this look?
PHOTOS: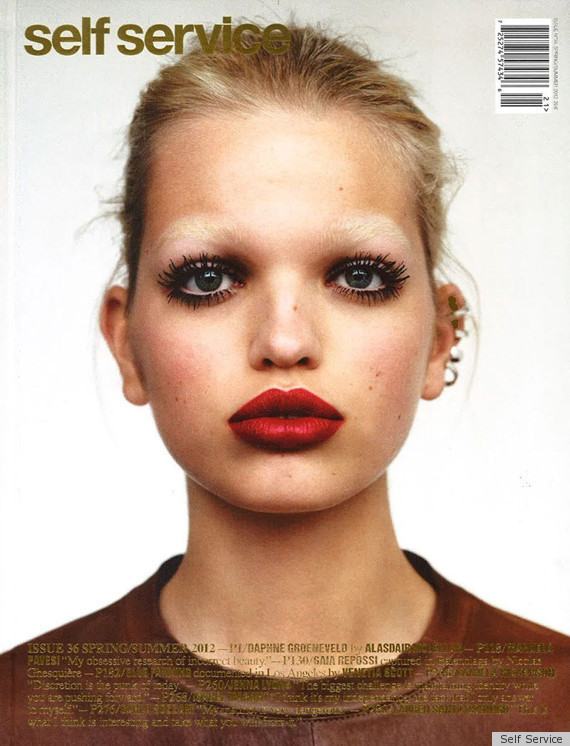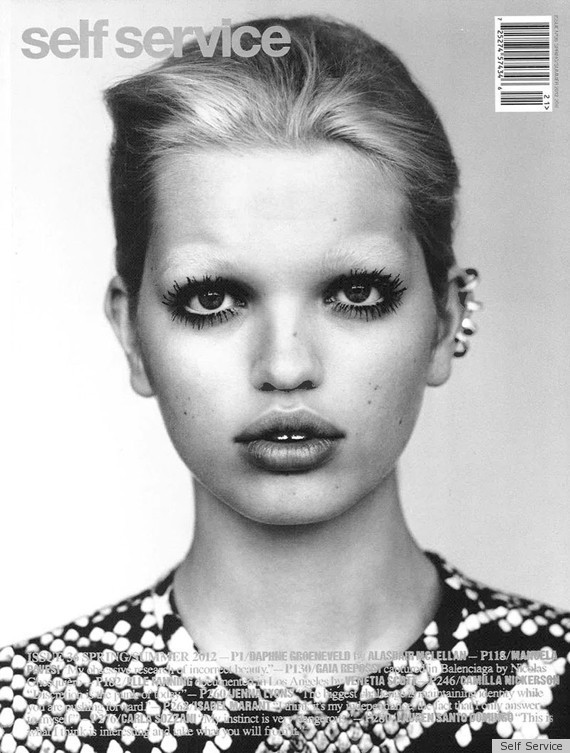 BEFORE YOU GO