A trip to the hardware store is all it takes to do this Craft Of The Day. Use pre-cut, laminate floor samples to make sleek, wooden coasters perfect for preventing unsightly water rings left behind by glasses. It's a low-cost (and low-fuss) way to protect furniture at home. Or, wrap up the coasters in pretty ribbon to make an especially thoughtful housewarming gift for a new neighbor! Keep reading for the how-to.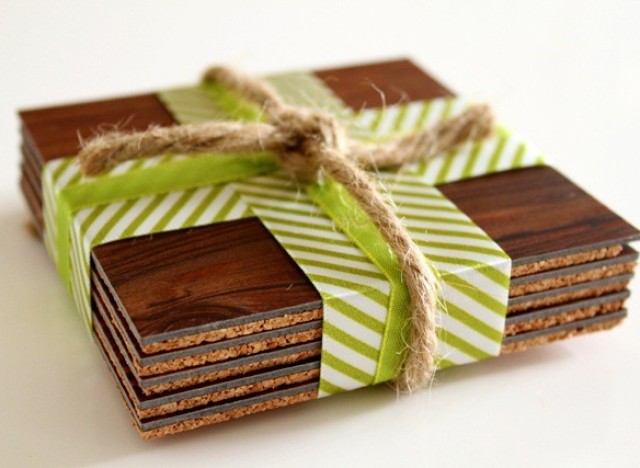 Photo by Chris Carey of Just A Girl.
What You'll Need:
Wood laminate floor samples, found in the flooring section of most hardware stores
Strong glue
Large sheet of cork
X-Acto knife or razor
How To Make It:
1. Apply glue to the back of the wood laminate samples, already pre-cut into squares.
2. Lay out the cork sheet and glue on each floor sample a few centimeters apart from each other. Put something heavy like a book over the samples as they dry to help them stick.
3. Run an X-Acto knife or razor blade through the cork to cut out the coasters once they are dry.
For a full tutorial, visit Just A Girl. And, be sure to check out the other great crafts in our Craft Of The Day slideshow below.
PHOTO GALLERY
Craft Of The Day