By Vanessa Quirk
(click here for original article)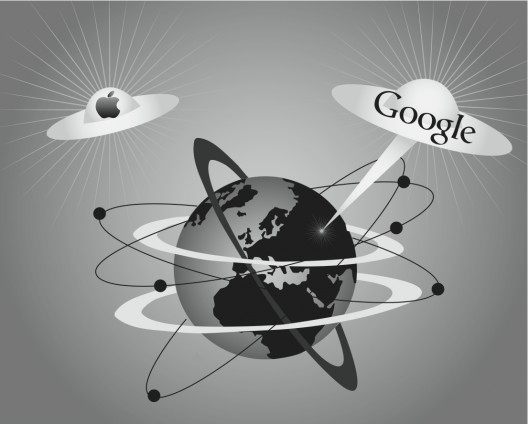 When Apple revealed the plans for their new campus in Cupertino, the responses to the "spaceship" were….varied, to say the least:
"Spectacular would be an understatement"; "So disappointing…" ; a "…panopti-lawn…" ; and – my personal favorite – "Sphincter?" [1]
The announcement instigated a flurry of analyses and criticisms over the meaning of the design for the world – the Zen-like significance of the circle, the role of architecture in this technologically-driven age, the legacy and hubris of Jobs – but produced very little discussion over its meaning for the company itself.
Meanwhile, months before news of the "spaceship" landed, another internet giant was searching the California landscape for its own space to call home. Still very much under-wraps, the new Googleplex will be the first time Google builds a workplace completely from scratch. [2]
These projects will be the Magnum Opuses, the ultimate physical representations, of the two most influential Tech companies in the world, and the two share striking similarities. So let's clash the plans of these two titans and take another look at Apple 2 – but this time in the light of Google – and see what they can tell us about these companies' futures.
The Apple Effect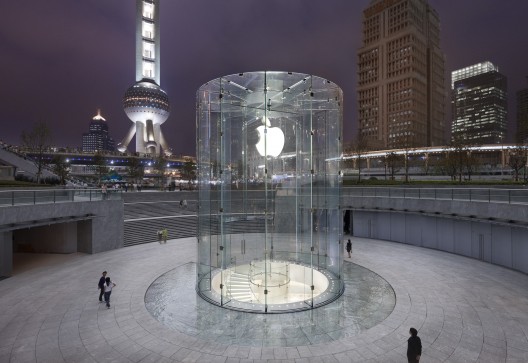 The Shanghai Apple Store © Roy Zipstein
There were no open competitions, no publicized discussions, or media-events. Both Google and Apple took the old-fashioned approach of hand-picking the architect who they felt could best execute each company's vision – giving us our first clue to what that vision is.
The trademark architecture of Apple stores, as designed by Peter Bohlin of Bohlin Cywinski Jackson, "push[ed] the limits of technology, particularly glass, to produce readily identifiable minimalist environments that would not overwhelm the products" – or the consumers for that matter. The cohesive, inviting user experience of the stores, and the popularity of the 5th Avenue and Shanghai stores, helped place the idea(l) of what an Apple building is into the collective consciousness of the public. No matter the product, or hooplah preceding the reveal, we expect of Apple three constants: minimalism, elegance, and innovation.[3]
But the Apple 2 campus, is in the hands, not of Bohlin, but of Foster + Partners. Why Foster and not Bohlin? What distinguishes these two firms – and what does Apple hope to accomplish with the design of its headquarters that differs from that of its stores?
We can find the answer by looking at Google.
Google's "Healthy" Philosophy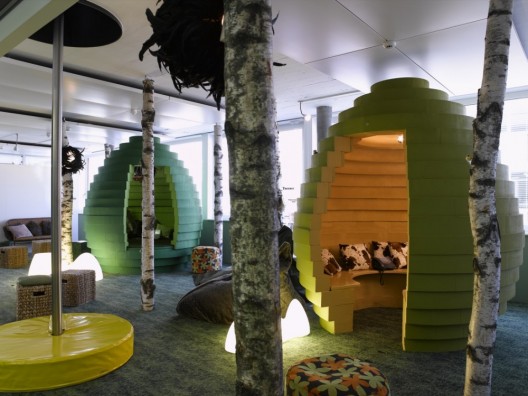 Meeting Spaces in Google's Zurich Headquarters.
When Google redesigns a building, no matter in which corner of the world, they have one major focus: to make the environment "healthy." Again and again we hear this mantra from Google higher-ups, because when Googlers say "healthy" they really mean two things: fun and green.
The fun part somewhat explains itself: if workers have fun at work, they want to go to work, stay at work, and, subsequently, work at work. A lot. It's Google's way of attracting talent and keeping them put.
Google's Zurich building, perhaps the epitome of Google's fun philosophy, focuses on diverse spaces that offer collaborative areas for idea-sharing and leisure/dining spaces for relaxing; it "operates as a self-contained city, providing for every facet of employee life." [4] In fact, the existing Googleplex in Mountainview, California, designed by Clive Wilkinson, purposely mimics the layout of a small city, with " a central spine or 'Main Street,' around which 'neighborhoods' of activity are clustered." The workplace becomes a lifespace of innovation and productivity – and so why would you ever leave? [5]
But "Healthy" also means Green, which, while an excellent PR initiative, is actually part and parcel of Google's worker-oriented philosophy. Yes, Google is trying to reduce its footprint, is investing millions in renewable energy, making transparent its energy consumption, but when it comes to its buildings, the green initiative is user (aka worker) oriented. For example, Google has been leveraging its power to make the construction industry publicize the contents of building materials (like the stamped ingredients on a Snickers bar) to make better construction choices. Moreover, it has created an impressive public transportation system to ensure that its buildings are well-connected to other cities. [6]
And so it's not so surprising that for its new campus, which (without the barriers of existing architecture) will completely develop its Green initiatives, Google has chosen as its architectural partner Ingenhoven.
What Your Architect Says About You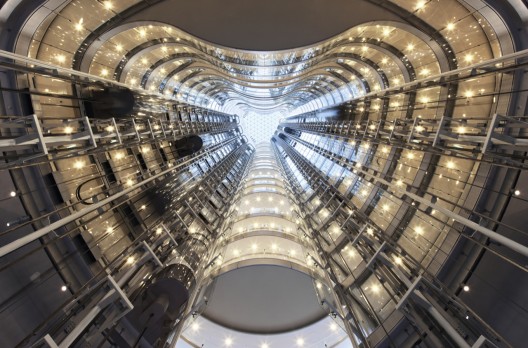 1 Bligh Office Tower © Ingenhoven Architects
Google & Ingenhoven
An award-winning German firm known for its sustainability and energy efficiency, Ingenhoven describes itself as "supergreen" in its efforts "to top the minimal standards required." A look at its past work would seem to corroborate the claim: the carbon-free and zero energy Main Station in Stuttgart, awarded the Global Holcim Award in Gold in 2006 for its sustainable design; the European Investment Bank in Luxembourg, certified as "Excellent" by the British Building Research Establishment Environmental Assessment Method (BREEAM); the 1 Bligh building in Sydney, which will be the first high-rise to receive the 6 Star-World Leadership Certificate of the Australian Eco-Standard Green Star. [7]
The Mountain View project will be "an expression of the corporate culture and at the same time a model for sustainable architecture in the broadest sense surpassing the LEED-Platinum-Standards with its holistic concept."
The selection of a conspicuously Green architect that will be able to integrate Google's worker-oriented culture with state-of-the-art Green technology leads us back to Apple and our original question: what does Apple want from the design of its headquarters?
Thames Hub, Foster + Partners from ArchDaily on Vimeo.
Apple & Foster + Partners
Let's start with the basics: Foster + Partners? They're big. BDOnline recently reported that the firm has "posted a major rise in profits for the year [...] £10.9 million, up from £1.6 million." It's a firm known for "super-sleek, elegant, exquisitely detailed buildings" and maintaining "quality even as it produces more enormous corporate, institutional, and civic buildings all over the world." [8]
They're also known for impressive, green structures, including Masdar City's first solar powered building, the Masdar Institute; In fact, the firm has its own Research and Development Group (and Sustainability Forum) to make their buildings as sustainable as possible. Future projects include the staggeringly ambitious, environmentally noninvasive Thames Hub proposal.
Much like the Thames Hub, the infrastructure (most significantly, the parking structures) of Apple 2 will be underground to let the landscape remain virtually untouched – a fact most critics ignored in their discussion of the "donut." Jobs' presentation to the Cupertino city council, in fact used the landscape and greenness as the design's selling points:
Employees +40%
Space +20%
Landscape +350%
Trees +60%
Surface Parking -90%
Building Footprint -30%
[9]
Moreover, while referencing Bohlin's trademark stores, as Foster's circular design will similarly be a feat in glasswork, the Apple 2 will be completely transparent in order to integrate it into the completely revamped landscaping around it.
This was the point of the circle: to create a landscape-centered allocation of space. To take away the asphalt and bring back the trees. To make it a beautiful place to work.
Progress or Hubris?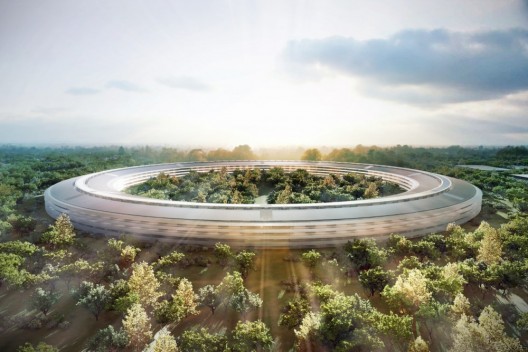 Apple Campus 2 © Foster + Partners
We can now see the difference between Bohlin and Foster's design ethos, and the key to Apple's intention with the Apple 2 campus: The User-Experience. The Apple headquarters are not meant to create a minimalist environment that speaks to the Apple-product user; much like Google's future HQ, the Apple 2 will be an environmentally friendly, energy-efficient campus that encourages a culture of innovation and productivity for the Apple worker.
For this reason the circle, or, yes "fortress" as some critics have called it, acts as a self-contained city. As Google's buildings show us, this containment is the goal, so that the building becomes an integral part of its workers' lives.
However, there is one important limitation to Apple's choice of the circle: there is no room for growth – or shrinkage. The circle will remain an inflexible structure and crystallized symbol of Apple's power as it exists right now. Should the company continue to grow, the Headquarters will no longer serve its purpose; should it begin to fail, the building will "create a void of inactivity visible to all." [10]
It is this brazenness – this theory of containment taken to its logical, if not practical, end – which has led some to predict that Apple 2 is "a sign of imperial hubris" that shows how out of touch Apple is. Of course, only time will tell, but Google would be wise to listen to these criticisms, to maintain a balance of containment with connectivity, and bring its designs firmly back to earth.
References
[1] May, Kyle, ed. "In one sentence, what are your thoughts on the design proposal for the Apple Campus 2 project?" CLOG: APPLE. 74 – 77. .
[2] Swift, Mike. "Google to Build Its Own Office Space" Mercury News.
[3] Varnelis, Kazys. "The Architect." CLOG: APPLE. Ed. Kyle May. 45. .
[4] Quirk , Vanessa. "Caring for Your Office Introvert" ArchDaily.
[5] Chen, Aric. "The Builder: The man behind the new 'Googleplex' and a long list of eye-popping interiors." Fast Company.
[6]Ravitz, Anthony. "Leading the Charge for Better Buildings." VERGE DC Conference. 14 March 2012.
[7] Minner, Kelly. "Google to build sustainable Headquarters in Mountain View with Ingenhoven Architects." ArchDaily.
[8] Goldberger, Paul. "Apple's New Headquarters." The New Yorker. 20 September 2011.
[9] "Steve Jobs Presents to the Cupertino City Council (6/7/11)" Cupertinocitychannel on YouTube.
[10] Cornelissen, Haiko. "Apple Bite." CLOG: APPLE. Ed. Kyle May. 105. .