Tim Tebow, meet New York. New York, Tim Tebow.
Tim, New York is America's biggest city! Sometimes called the Big Apple, we're home to the Empire State Building, the Statue of Liberty, a spying-and-stop-and-frisk-happy police department, a feisty protest movement, a billionaire mayor, gay married people, really expensive apartments, and bagels. You'll actually be playing your football games in New Jersey.
New York, Tim was formerly the starting quarterback at the Denver Broncos and previously was the starting quarterback for the University of Florida, where he won a National Championship, a Heisman trophy, gave a popular locker room speech, an even more popular press conference, and wrote "John 3:16" on his blackeye. Before UF, Tim was a home-schooled high school kid whose parents were Christian missionaries. Tim was born in the Phillipines. He is very religious. Because John Elway loves Peyton Manning and Tim isn't the best passer in the world, the Broncos traded Tim to the New York Jets. [ He will be a second-string quarterback behind starter Mark Sanchez, which means he might not even play.
And so New York, some other extremely important things to remember about Tim and #Tebowmania.
Apparently this was never Tim Tebow's extremely gorgeous girlfriend. (Will Tim be New York's most eligible bachelor? Or will Sanchez?)
A lot of times Tim does this:
PHOTO GALLERY
PHOTOS: Tebowing
This just means he's very publicly thanking his Lord and Savior for allowing him to succeed at the great game of football.
Once, a halo appeared above the field where Tim won a game: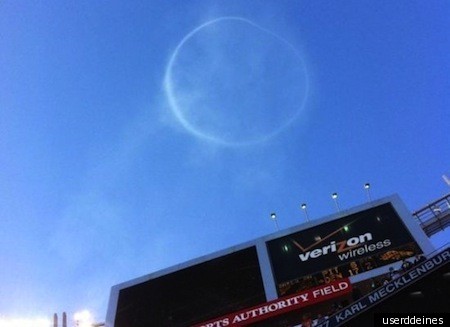 Sometimes Tim and his Mom make Super Bowl commercials about abortion together:
Once New York's own Saturday Night Live made fun of Tim's earnestness, religiousness and eagerness. It was very, very funny:
Oh, and don't forget Tebowie!
Now it's time to speculate, New York. What's the best neighborhood for Tim? You see him settling down with the sports nuts in Murray Hill? Probably too loud. Maybe he'd prefer Tudor City? Probably New Jersey, honestly. What church? Prospect or Central Park? Where do you think he'll eat? Will #Tebowmania replace #Linsanity once the NBA season is over? This is ALL THAT WILL MATTER to us come fall when football starts again.
As for the Jets, all this hype is bound to be a good thing. It will draw attention from the foot-fetishisms of Rex Ryan, the legal troubles of Santonio Holmes, Sanchez's date with a 17-year-old and Cromatrie's nine kids with eight different women across six states. Welcome to the Jets, Tim! This could be the most challenging mission of your life.
(Thanks to our Denver vertical who patiently explained all of this to us).
BEFORE YOU GO