Ed Ruscha's paintings look simple, which is what makes their complexity so confounding. Like a short poem, you can enjoy a Ruscha work in a matter of moments or spend years trying to figure it out.
His collection "On the Road" at the Denver Art Museum combines visual and literal poetry through his channeling of Jack Kerouac's magnum opus. Why here, you might ask? The museum explained: "Much of the novel, typed on a continuous 120-foot-long scroll, is set against the backdrop of post-World War II lower downtown Denver." Ruscha inserts Kerouac excerpts in the foreground before his stripped American landscapes. From snow-capped mountains to foggy skies, Ruscha's visions help preserve the mystique around Kerouac's enigmatic phrases.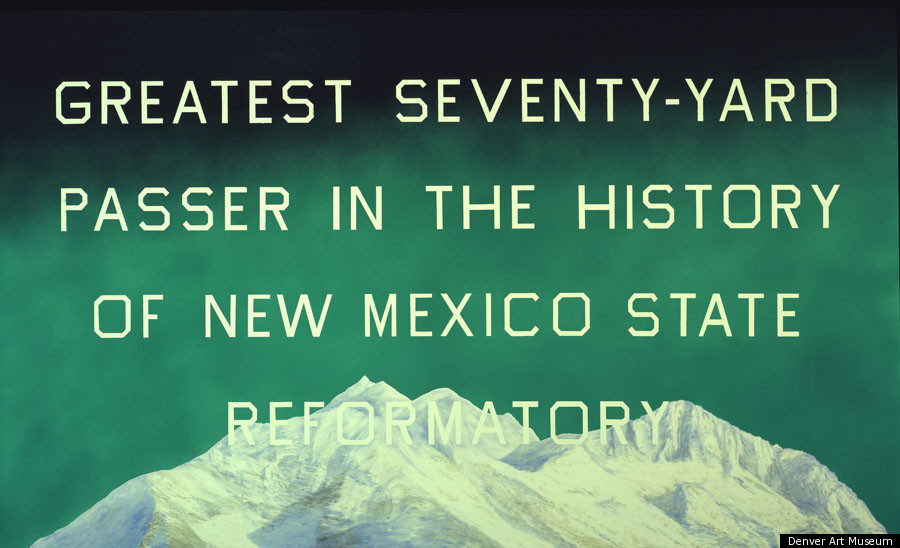 "On the Road" was written in 1957, and Kerouac regaled us with his own journeys with friends as they traveled through America and Mexico in the 1940s. The novel was immediately hailed as the model of the Beat Generation, a movement of holy hedonism and bohemian exploration. Its rhythmic channeling of poetry, drugs and jazz created a hypnotizing new pace of prose that continues to inspire even today.
Both Ruscha and Kerouac helped shape the cultural landscape of the American West, which is why the pairing seems so natural. Ruscha is often characterized as a Pop Artist, because he incorporates deadpan humor into cosmopolitan images. Yet his works are topped off with a hint of surrealism. Thus the result places him somewhere between Roy Lichtenstein's wryness and Allen Ginsberg's mystical exuberance. His work connects the not-immediately agreeable worlds of materialistic, ironic Pop Art and the effervescent Beats.
Witness the magic of the American road with "Ed Ruscha: On the Road". It's on view at the Denver Art Museum until April 22.
Do you think Ruscha captures Kerouac's words through his images? Let us know your opinion!