Always the chameleon, Nicki Minaj has donned every crazy outfit/costume under the sun. Here's the short list: racy Versace nun, sexy robot, leopard, crystal-riding giraffe and whatever this is.
But to our knowledge, Nicki's never dressed up like a movie snack before. Until now.
The 29-year-old singer, who's currently doing promotions in Tokyo, took the overseas opportunity to try on some new outfits, including this ah-MAZ-ing popcorn dress, which she posted on her Twitter.
Now, how exactly does one dress up like popcorn? Well, it looks someone superglued (?) kernels of real popcorn into Nicki's pastel-colored corset bodice. Her red-and-white striped skirt resembles the popcorn box. (Er... how does she sit down in that?)
Either way, Nicki's fans seemed to be all about it when she went for a stroll, although none of them tried to steal a handful of popcorn off her bodice... which we might have.
Scroll down for photos and video.
Japan. Outfit/Wig #2. Movie. Popcorn. lockerz.com/s/194370673

— Nicki Minaj (@NICKIMINAJ) March 21, 2012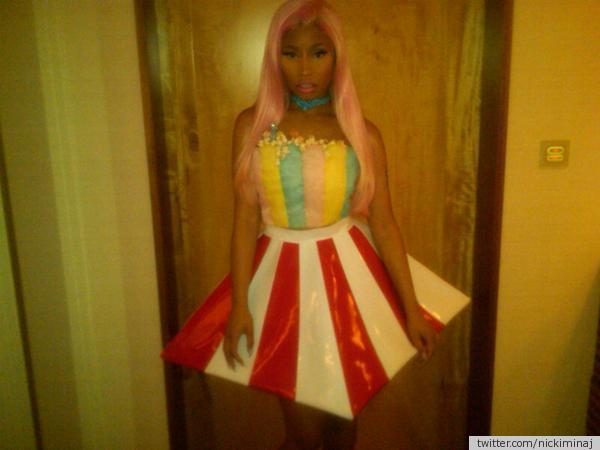 BEFORE YOU GO
See Nicki's style evolution!
PHOTO GALLERY
Nicki Minaj's Style Evolution (PHOTOS)