Last night the high-powered Lunchbox Fund held an auction in service of its mission to feed schoolchildren in South Africa, in a setting far far away from the cause. It happened in the basement of Mario Batali's Manhattan restaurant Del Posto (Batali is a Lunchbox board member), and the iconic names behind the items on the block were all in attendance: Chuck Close maneuvered the periphery of the crowd in his mechanized wheelchair, wearing a geometric-printed pant and shirt set and a black bowler hat. Phillip Glass stopped to take a picture with him. Michael Stipe emceed for a bit, introing Salman Rushdie, who praised the persuasive powers of Lunchbox's founder, South African-born model Topaz Page-Green.
Rushdie had put up a manuscript for sale, a copy of his 993-word story "A Globe Of Heaven," which went up in full 6 months ago on what appears to be Rushdie's very own Tumblr(?!). The story tells the tale of an American woman in the Mexican desert who claims to unearth a cache of inaccurate "sky globes" -- Medieval constructs that map space onto spheres, instead of the earth -- and presumes they were sent by aliens. This copy was written by Rushdie himself, in cursive, and illustrated by Francesco Clemente. Propriety stopped us from snapping all the goods: the handwritten Phillip Glass score and Chuck Close's photographic triptych of Page-Green, which sold for the highest amount ($110,000). But we did get some stealthy shots of Rushdie's handwriting at work on such extraterrestrial words as "light-years," "landing strips," "spaceships" and "aliens." Squint a little: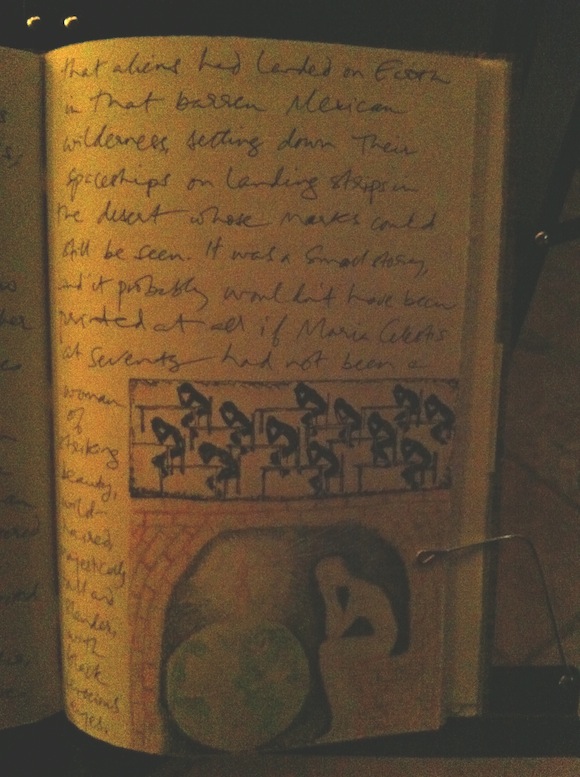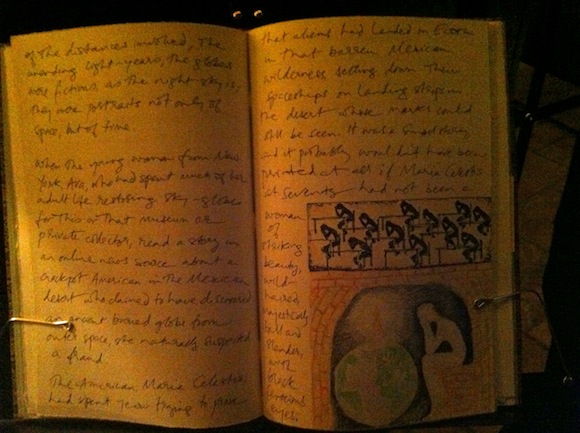 And because intimate famous people parties are almost as weird as inaccurate sky globes, we've compiled some pictures of last night's seemingly incongruous attendees. Of note: Page-Green links arms convincingly. You'd think she'd actually arrived with Michael Stipe, and then there she is, arm in arm with Dr. Nicholas Perricone. It's magical:
The Lunchbox Fund's auction continues online through March 31.