Only in New York. As the Tim Tebow trade drama extended into the evening on Wednesday, the Big Apple was faced with a problem perhaps as dire as the threat of the Jaguars swooping in to acquire Jacksonville's native son. What if the trade was consummated too late for the New York tabloids to give it the cover treatment it deserved?
Thankfully, Adam Schefter of ESPN confirmed the Jets-Broncos trade early enough for the Post and Daily News to do what they do.
For its front page, the Post photoshopped an image of the religious quarterback doing his Tebowing thing over Time Square with the words "GOD HIM" beneath.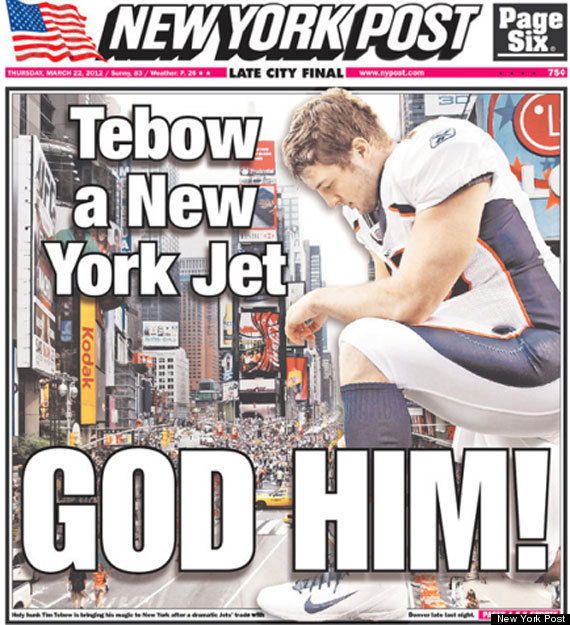 On the back page, the Post took aim at the the disparity between hype and success among Tebow and his new team.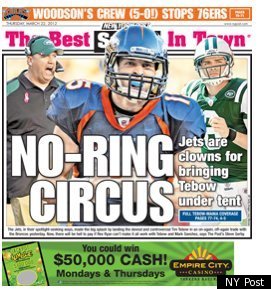 Tebow Time couldn't reach the Big Apple without plenty of drama. Quarterback controversy (there is none according to general manager Mike Tannenbaum).. Linsanity meets Tebowmania.. Jets legend Joe Namath ripping the trade. The deal then no-deal then deal had it all.
The News commemorated Tebow's eventual arrival with a front page headline that simply proclaimed, "AMEN!"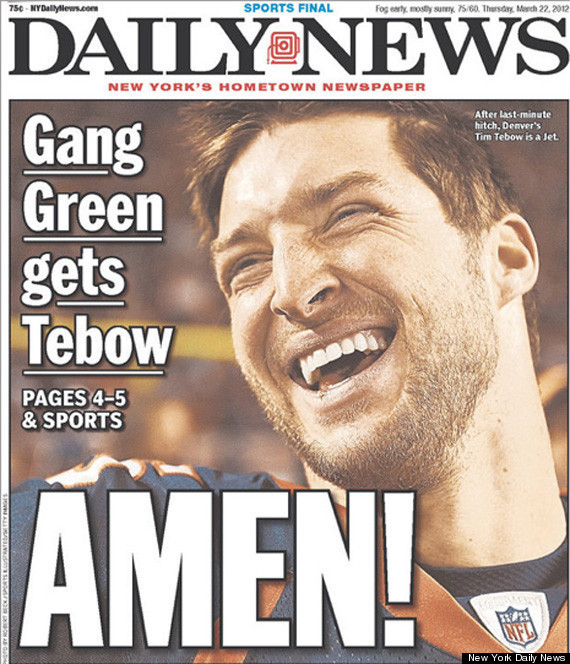 Rather than simply depict the Jets' new back-up quarterback kneeling in prayer, the News took some artistic license and had another famous New Yorker strike the Tebowing pose.