Abercrombie & Fitch has had plenty of scandals on its hands, but luckily this is not one of them.
On Thursday, the retailer and plenty of Internet users endured a brief freakout when a screenshot of "Abercrombie & Fitch N****r Brown Pants" appeared on the web, ostensibly being sold on Abercrombie.com.
It seemed too ridiculous to be true, and it was. Shortly thereafter, it was revealed that the site selling the offensively-named pants was abercrombie-and-fitchoutlet.com, one of several impostor sites that sells preppy, Abercrombie-like clothes. The fake website, reports Styleite, was registered to a Hong Kong email address; as Gawker notes, the use of the N-word was likely due to a poor Chinese-English translation program, something that's happened in the past. (And is still happening -- read this hilariously garbled Abercrombie fan blog.)
Regardless, the real Abercrombie & Fitch has quickly stood up and denied the product originated from them. The company tells TMZ, "We do not condone racist language. This is a counterfeit website and we have initiated legal proceedings to shut it down."
It seems they achieved their goal rather quickly: attempt to find abercrombie-and-fitchoutlet.com now and you'll come up empty. Yet the racist pants brouhaha highlights the strange problem of fake Abercrombie websites, which can be found all across the web (something we found out when we stumbled across this unlikely "Jersey Shore"-themed tee from Abercrombie, only to discover it was from the fake abercrombie-fitch-mens.com).
It's a lesson to shoppers: for all your fitted hoodies and low-rise sweatpants needs, stick to the real Abercrombie.com. Unless, of course, you're Mike "The Situation" Sorrentino.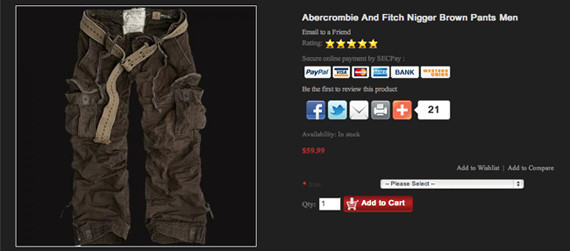 BEFORE YOU GO