Warm one day and chilly the next, spring is notorious for fickle weather. Thankfully, you'll be prepared for whatever Mother Nature throws at you with this Craft Of The Day. This two-tone braided scarf is light enough to throw on for a sunny afternoon spent outside but will still keep you cozy should an unexpected cold gust blow your way. And, you can make it using old t-shirts you already own. Keep reading for the how-to.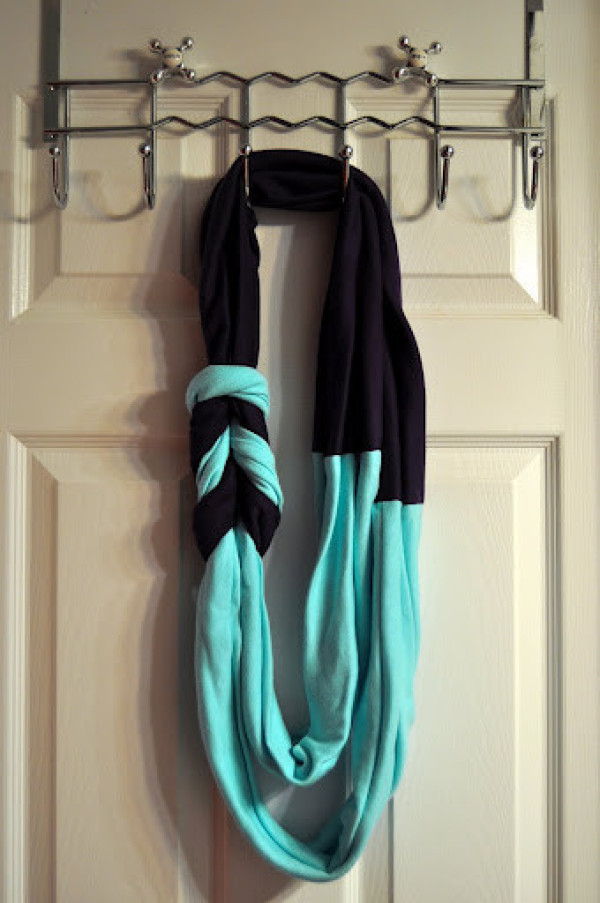 Photo by Keight Dukes of Put Up Your Dukes
What You'll Need:
Two extra large t-shirts in complementary colors
Thread to match your fabric
Needle for hand sewing
Scissors
How To Make It:
1. Cut a wide, horizontal strip from each t-shirt so that you are left with two loops of fabric. Cut each loop on one side along the seam to turn them into long rectangles.
2. Fold each rectangle lengthwise and sew along the sides. Turn them inside out to hide the seam.
3. To braid your scarf, start by laying out each strip of fabric next to each. Pull in the middles of each strip so that they overlap each, forming a loop.
4. Reach your arm through one side of the loop and grab both ends of the opposite strip. Pull the ends back through the loop, making a loose knot.
5. Repeat the process, reaching your arm through the loop and pulling the tops ends through it. Do this four or five times or until your braid is as long as you want. Then pull the ends tight to keep the knot in place.
6. Lay the strips of your scarf out in the shape of an X, with the knot in the middle. Take the opposite ends and bring them together so that the two different colors are touching each other. Sew the edges together.
For the full tutorial, visit Put Up Your Dukes. And, be sure to check out th other great ccrafts in our Craft Of The Day Slideshow below.
PHOTO GALLERY
Craft Of The Day