Duct tape goes beyond home repairs in this Craft Of The Day. More durable than paper, this bright flower can be used as the basis for barrettes (just add a hair clip to the back), brooches and anything else you can think of. We can't think of a simpler way to decorate for spring. Keep reading for the how-to.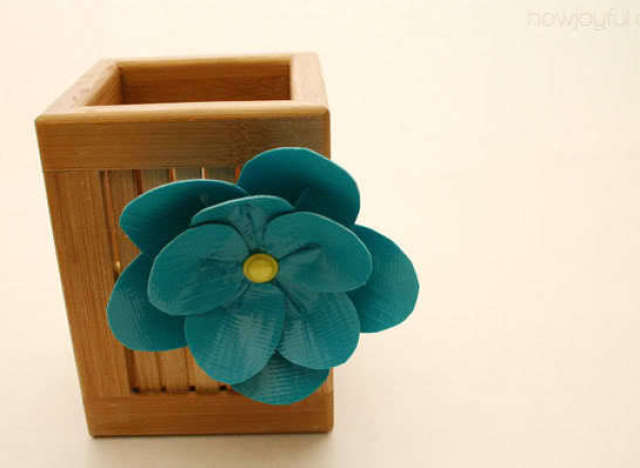 What You'll Need:
Brightly colored duct tape
A button
Paper clips
Hot glue gun
Template (optional)
How To Make It:
1. Unroll a long piece of duct tape. Fold it in half so that the sticky sides are touching each other.
2. Print out this template for your petals. Or, make your own pattern by drawing out one 2-inch wide circle and one slightly smaller circle onto a piece of paper.
3. Trace five circles in each size onto your strip of duct tape and cut them out. You will have ten petals total.
4. Hold up one circle and pinch the bottom half, folding it in to create a small crease. Put a dab of glue inside the fold to keep the petal's shape. Repeat this for the other circles.
5. Cut a round piece of duct tape for the center of the flower. Glue a button to the center of it.
6. Start gluing your larger petals along the outside edge of your center circle.
7. Glue the smaller petals in between the larger ones. Make sure the bottom tips are touching the button.
8. Place a smaller piece of duct tape in between your paper clip. Use it to tape the clip to the back of your flower so you can attach it to anything.
For a full tutorial, visit How Joyful. And, be sure to check out the other great crafts in our Craft Of The Day slideshow below.
PHOTO GALLERY
Craft Of The Day