In high school, Colin Levy spent a year-and-a-half working on a five-minute short film. Little did he know that the film, which starred his father and was filmed in his backyard, would go on to win a national YoungArts award -- and a one-on-one meeting with legendary filmmaker Martin Scorsese.
Levy calls the meeting "a defining moment" in his path as a filmmaker, and in an email to The Huffington Post, he recalled meeting the Academy Award-winning director as a teen.
After receiving a personalized tour from Thelma Schoonmaker, Scorsese's trusted film editor for over 40 years, Levy stepped into Scorsese's office, where, according to Levy, the director complimented the teen on his short film and his basic use of 3D animation.
Following his meeting with Scorsese, Levy sent the filmmaker a thank you card, and to his surprise, he received several books and DVDs -- including "A Personal Journey with Martin Scorsese Through American Movies" -- as well as a list of 39 foreign films to watch, as recommended by Scorsese himself.
Six years later and Levy, now a filmmaker and visual effects artist, has finally started to check off the films on Scorsese's list with purpose. In an email to The Huffington Post, Levy said that he was recently inspired to start watching all 39 films, in order, as part of a screening series he organized at Pixar.
After Levy tweeted about his list on Monday, it was quickly posted to Reddit by one of Levy's followers. It received more than 250,000 views in a single day.
Six years ago, I had the chance to meet Martin Scorsese. He was gracious, intimidating.It was a defining moment in my path as a filmmaker.

— Colin Levy (@effstops) March 25, 2012
Here's the list of 39 foreign films supposedly given to Levy by Scorsese. The Huffington Post has reached out to Martin Scorsese and his representatives to verify the authenticity of the list, but they have yet to respond.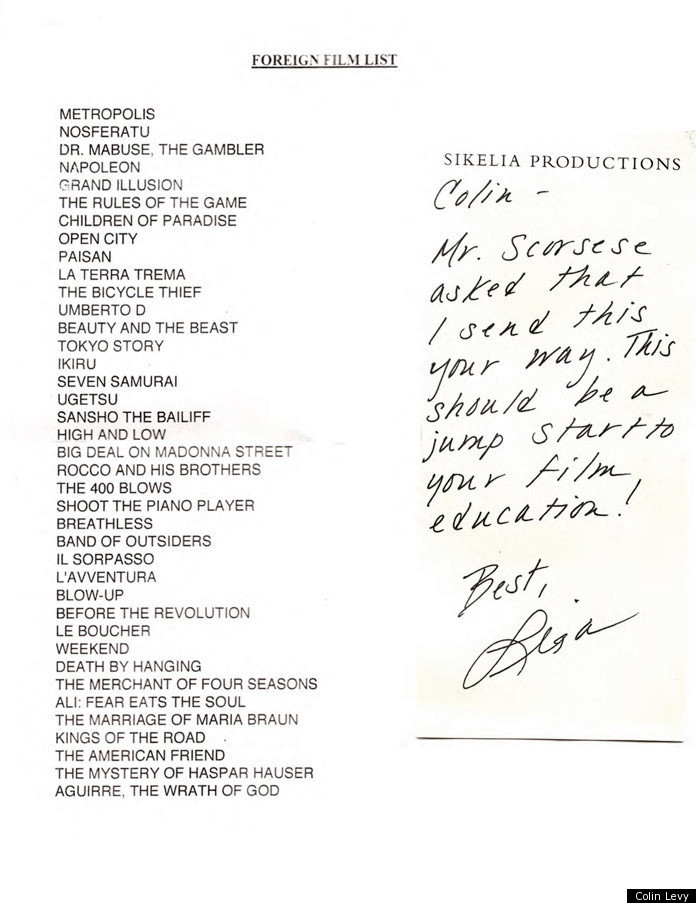 BEFORE YOU GO