Some of the city's oldest subway cars clogging the C line are heading towards retirement, as the MTA is expected to approve the purchase of 300 new cars.
The upgrade is planned for 2015, which will mark the 50th year in service for the beaten down cars.
MTA spokesman Kevin Ortiz details, "We have some cars that definitely need to be retired, namely the R32's which are the oldest cars in the system and predominantly on the C lines."
The unpopular line has been continuously voted among the worst subway lines by the Straphangers Campaign due to the aging cars known to break down frequently. Passengers have often complained about the difficulty to hear conductor messages as well.
The 300 cars will reportedly cost the agency $599 million and be manufactured by Bombardier Transit Corporation. Past contractors include Alstom and Kawasaki.
The last time the MTA announced the plan for a fleet of new cars was in 2002, installing R160's (below) packed with "brightly-lit interiors, crystal-clear digitized voice announcements, and more." The 300 new cars are expected to be the same or have similar amenities are the R160's.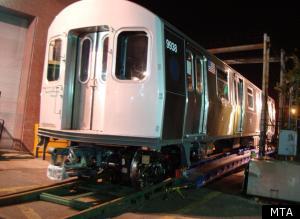 In the past, reefing, which involves dumping retirees into the ocean to cultivate underwater sea life, has been used to dispose of old subway cars.
Watch below for the interesting reefing process:
Correction: An earlier version of this story stated that reefing may be an option for the upcoming removal.