Manicures aren't the first thing that come to mind when one thinks of Avril Lavigne. But when I sat down with the 27-year-old rocker on Monday, she proudly flashed glittery pink skull-and-bones nail art. It added a feminine touch to her borrowed-from-the boys outfit consisting of a motorcycle jacket, oversized T-shirt and Chuck Taylors.
As the name behind three fragrances (Wild Rose, Forbidden Rose and Black Star), Lavigne recently teamed up with Sally Hansen to create a collection of edgy nail polish strips. "The 12 patterns are reflective of me and my favorite colors, icons and images," says Lavigne. "I love skulls, duh! But there's studs, zebra print and more. I'm a pink, red and black girl, but it's been fun experimenting with blue and yellow."
Always on the go, the Canadian-born star has mastered the nail polish strips peel, apply, file and go technique in just five minutes. "Some people find it relaxing to get manicures, but I don't have the patience or time to sit and get my nails done with actual polish these days. And now that these exist, I never get polish done anymore."
She adds, "I put them on in the car, on the plane or while I'm in the studio. If I ever have one left over and there's a guy hanging around, I'm like, 'Can I put it on your pinky finger?' They don't care but once they see the final product, they're like 'Wow, that's awesome!'"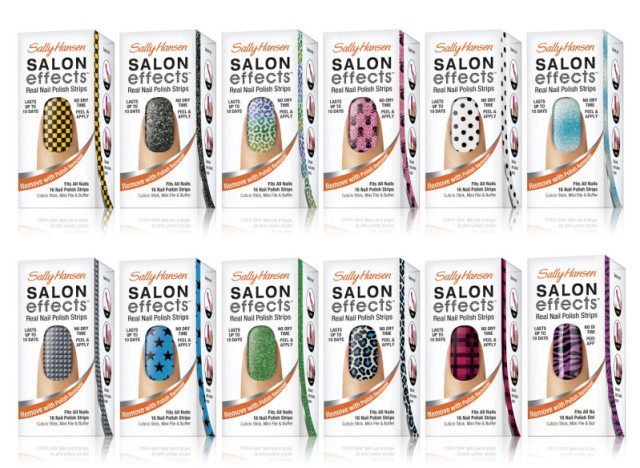 Avril Lavigne Sally Hansen Salon Effects Nail Strips Collection, $9.99 each. Courtesy Photo
With more hunky gentlemen like Johnny Depp and Seal experimenting with nail color, I just had to ask Avril which man she'd like to see sport her new polish strips. Her response: "Someone in rock and roll. I'm not going to give a name because that might be weird. I've definitely painted Take the Stage (a shiny black) on some of the male band members."
And when she's not busy giving out man-icures, the "Goodbye Lullaby" songstress is mixing up at-home hair color. "I like to dye my hair," says Lavigne. "Sometimes I have my hairdresser do the bleach and then wash it out. I'll put blue, pink or green on the ends. It's easy enough and usually fades. I like to color it myself because I feel like I do it better."
BEFORE YOU GO