In the wake of the Trayvon Martin tragedy, the hooded sweatshirt, or "hoodie," has become a national symbol for people who stand in solidarity with the Martin family.
But the "Concealed Carry Hooded Sweatshirt," available for purchase from the National Rifle Association, probably does not carry the same message.
The Miami New Times on Tuesday reported that the NRA is selling a hoodie that has pockets specially designed to carry a concealed weapon.
SCROLL DOWN FOR IMAGE
Trayvon Martin was shot and killed on February 26 by George Zimmerman, a neighborhood watch volunteer. Martin was unarmed and wearing a hooded sweatshirt at the time of the shooting. Zimmerman remains uncharged in the shooting in part because of a controversial Florida law that allows residents to use lethal force if they feel like their life is in danger.
The official NRA website says the "exclusive" Concealed Carry Hooded Sweatshirt is "[i]deal for carrying your favorite compact to mid-size pistol."
From the official NRA Store website:
We want concealed carry to fit around your lifestyle -- not the other way around. That's why we developed the NRAstore™ exclusive Concealed Carry Hooded Sweatshirt. It's the only garment of its kind we know of!

...

Inside the sweatshirt you'll find left and right concealment pockets. The included Velcro®-backed holster and double mag pouch can be repositioned inside the pockets for optimum draw. Ideal for carrying your favorite compact to mid-size pistol, the NRA Concealed Carry Hooded Sweatshirt gives you an extra tactical edge, because its unstructured, casual design appears incapable of concealing a heavy firearm -- but it does so with ease!
It's not clear when the hoodie became available, but a red seal labeled "new" alerts visitors to the store that the sweatshirt is a relatively recent arrival.
Some have criticized the sweatshirt as insensitive. The Star Ledger called the hoodie a "ridiculous product" that is "politically tone-deaf." One Twitter user said it was "scary."
As Nick Ramsey at MSNBC.com put it, "I have no words."
The NRA has not replied to a request for comment from The Huffington Post.
Geraldo Rivera last week found himself the focus of outrage after he said on Fox News that Martin's hoodie was as much to blame for the teen's death as George Zimmerman. Rivera on Monday apologized for his comments.
And Wednesday morning, Rep. Bobby Rush (D-Ill.) was escorted from the floor of the House of Representatives for wearing a hoodie.
According to the website, all of the profits from the NRA Store "go directly to support vital NRA programs."
LOOK: NRA Concealed Carry Hooded Sweatshirt: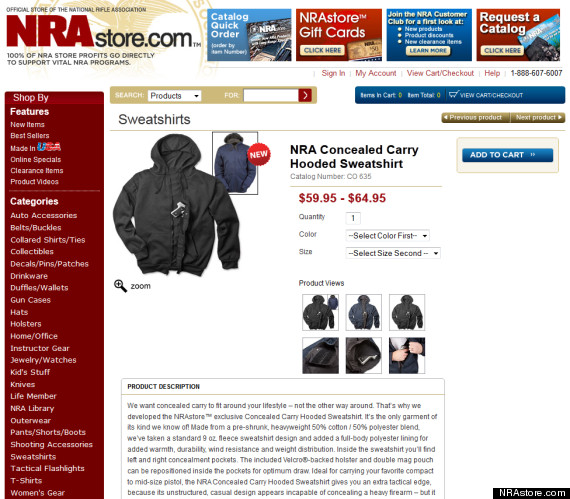 BEFORE YOU GO
PHOTO GALLERY
Trayvon Martin Photos