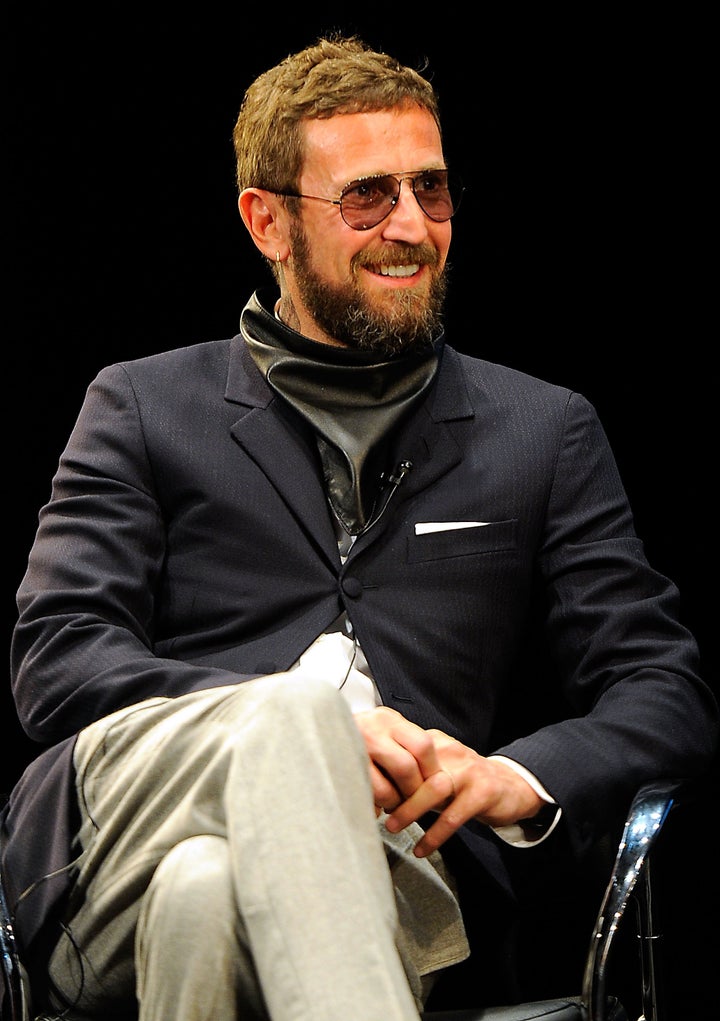 In her introduction, Harper's Bazaar's editor-in-chief Glenda Bailey recalled the Italian designer's final show, which took place on March 5th (and can be seen below), "he took a bow, and another bow, and another bow... if this was '50s Broadway, he was Laurence Olivier."
How has the Hamlet of fashion faired following the applause? "I'm really good," Pilati insisted at the event, "I'm really happy, which is something I never believed I could be under these circumstances." Calling his time off, "a vacation," Pilati doesn't seem ready to participate in the fashion industry's constant game of musical chairs. "I started to work in fashion at a really early age, and somehow leaving Saint Laurent ended a chapter, a career I started almost 30 years ago," he explained, "For some reason, I realized I haven't planned any move."
There's no need to worry about the designer's future, however, as he counts Giorgio Armani, Miuccia Prada and Tom Ford as his former employers. Although he had mostly pleasant things to say about his past, Pilati was remarkably candid and intimate, giving off the vibe he might be a designer you would only dream to count as a friend (or as a drinking buddy). In a remarkably personal dialogue, Pilati seemed entirely comfortable on stage as he spoke about losing his job at one of the most prestigious houses in the fashion industry.
Continue reading for some of our favorite moments from the conversation:
On moving from Miu Miu in Milan to YSL in Paris:
"Let's not go there. 'Challenging,' I don't think is the right word. It was traumatic." Pilati recalled, "Prada was a family situation, it was literally every day, Saturday, Sunday included, between Miuccia and [Patrizio] Bertelli. Everything was discussed, sometimes it was really discussed around the table." Of the differences between the cities themselves, he joked, "Paris compared to Milan? It's like Milan was a village, a chic one though."
On working for Tom Ford at YSL: "Tom has such self confidence," Pilati said, "you can absorb it. He has enough for everyone around him."
On living in Yves Saint Laurent's shadow:
"Oh, I forgot about him!" Pilati joked, "To tell you the truth, it was complicated for me... the fact that he was alive and the fact that he was such a master." He continued, explaining what it was like to design for the house of Yves Saint Laurent under the watchful eye of the founding designer, "I didn't want to be aggressive in my departure." When Saint Laurent passed away in 2008, it was a turning point for Pilati, "a lot of people started to ask me, 'do you feel something has changed?' or 'is it going to change for you now that he's not alive anymore?' At first, I said 'no, I don't think so, why?' I've always tried to do my best, but in fact it had changed. I could really feel the fact that his physical presence wasn't there anymore in a way it gave me a sense of freedom."
On balancing creativity and business:
"I lived the business aspect of fashion since day one," Pilati explained, "It's not something that for me was like, 'What do you mean? I am a creator! Who cares if you can sell it?' No way." Part of turning Yves Saint Laurent into a profitable company was in the now-famous Tribute pump and iconic handbags. "So I focused on that. I put aside my ego, I put aside my freedom and I worked hard to respond to what the market was asking for," Pilati continued, "I always said 'I'm not an accessory designer, I've never designed a pair of shoes in my life, I've never designed a bag in my life, I don't know if I would be able to do that.'" But, he figured out a way. Pilati's business formula is quite simple, "you design something and you want every single woman or man to wear it. You know that they're going to pay for it, so you're going to get some money somewhere. Maybe it's my education, but I never thought, 'I hope nobody gets this except for me.'"
On contemporary style: "Cool" is the most overrated idea in fashion, and "Elegance" is the most underrated.
On his advice to young designers: " Don't lose your passion, be true to yourself," and "Go to work as soon as you can.... Do any job in fashion. No matter what." Pilati's tried it all, "I've been a sales person in a shop. I've been an assistant, a stylist, done internships... I knew that I wanted to work in fashion. That for me was the same thing, to be a fashion designer came up, but you have to try many things." Pilati wasn't your average eager young employee, however. he was ambitious, recalling, "Obviously, when I worked in a shop I thought I could be the owner of 1000 shops. When I was a stylist, and I thought I could be Grace Coddington." For this reason, Pilati confessed, "I'm really tough with my young assistants." which he quickly corrected, changing tenses, "Was. Now, they're probably like 'yeah!'"
On fashion designer stardom: "Anybody can be on the bloody cover of a magazine these days, because there are about 25,000 magazines."