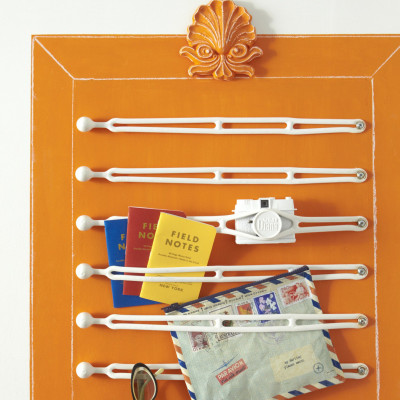 Photo by Aimᅢᄅe Herring and 'Living In A Nutshell'
It's easy to let a catchall corner run amok. These white rubber boating straps maintain their cool while keeping everyday essentials like keys, mail, sunglasses, even cameras from taking over a foyer. Boating straps are extra strong, happily won't mar or scratch, and look graphic and trendy in multiples. Simple screws and washers keep the straps in place. Give them a whirl in a kid's room or put them to work in a home office as a hip storage alternative.
In a Nutshell: If you're really pressed for storage space, maximize your vertical real estate when it comes to organizing your daily go-to items like keys, bills, and your clutch. Whether it's hooks or rubber straps, storage hardware hung in multiples makes anything they harness look pulled together and opens up valuable table space.
For more wall storage ideas, also watch this:
BEFORE YOU GO