Add a touch of spring to your place settings this Easter with these charming napkin rings. The cheerful nests will look playful against an elegant tablecloth and they are so simple to make! Plus, you can find most of the materials you need at a craft store for next to nothing. The entire project cost blogger Jennifer McAliley less than $5. Read on for the quick how-to.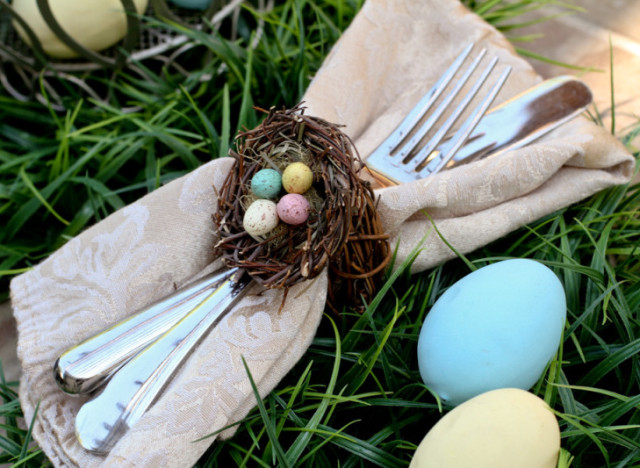 Photo by Jennifer McAliley of Scissors and Spatulas
To make your own set of napkin rings, you will need enough twig bird nests (which you can pick up at Hobby Lobby) for each seat at your table. You will also need grapevine wreaths that are three inches in diameter, a hot glue gun and mini speckled eggs, which you can find with other Easter decorations. First, glue three of the eggs into each nest and let them dry. Then, glue each nest to a wreath, attaching it at an angle so that the nest sits slightly slanted. To complete the look, simply loop the finished holders over your best cloth napkins.
For a full tutorial, visit Scissors and Spatulas.