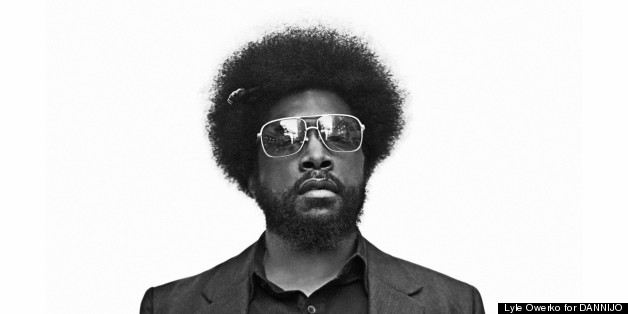 Between 12 albums keeping the beat for The Roots and leading the house band for "Late Night with Jimmy Fallon," you'd think Ahmir "Questlove" Thompson would have enough on his plate. But the drummer extraordinaire is now entering the clothing business, as co-founder of The Hoodie Shop on New York's Lower East Side.
Located at 181 Orchard Street, the store's opening comes at a cultural zeitgeist moment for the hoodie, following the shooting of teenager Trayvon Martin, who was wearing a hoodie at the time. The shop opened on Tuesday, March 20, only a day before the "Million Hoodie March" to show support for Martin and only a few days before Geraldo Rivera's controversial comments about Martin's hoodie sparked outrage across the Internet. "What, I gotta stroll around rocking a tux 24/7 so I can put others who are ignorant at ease?" Questlove tweeted at Rivera.
But Questlove, who is partnering on the fashion venture with Brooklyn Bowl owner Peter Shapiro, insists the timing is merely an unfortunate coincidence, as the shop has been in the works for a year. "I texted Pete and said how ironic is it that we're going into this Hoodie Shop venture now, with what's happened," Questlove told New York. "How we gonna handle this, because I don't want people to think we're jumping on the hoodie bandwagon.'"
For Questlove, a self-proclaimed hoodie aficionado, the venture represents more of a fashion and cultural evolution, despite all the recent buzz about the hoodie. "Fashion-wise, for the skinny-jean generation, we're undergoing the first significant comeback of the hoodie since those Gap hoodies back in the early nineties," he said. "I never even thought about it as something a scary dude wears." For Questlove, memories of the hoodie are rooted in a romantic tryst with the hip-hop genre. He cites seeing the video for "Can I Kick It?" by genre pioneers A Tribe Called Quest for leading him to purchase his very first hoodie.
If there's any place where a specialized or niche clothing store can thrive, it's the Big Apple. From The Little Lebowski and its strictly "The Big Lebowski" related clothing to Tender Buttons where it's all buttons all the time, there's a store for seemingly every clothing item imaginable. But The Hoodie Shop also carries vintage and contemporary casual-wear like leather jackets, blazers, soft cashmere loungers, vintage concert gems, backless cardigans, scarves. The store's interior is a colorful dose of psychedelia inspired by the final tour of LCD Soundsystem last year.
BEFORE YOU GO