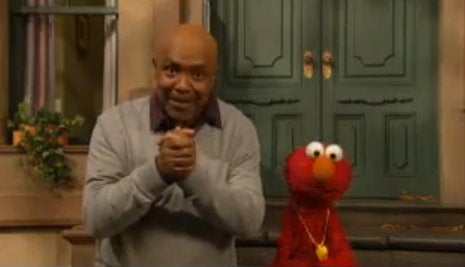 Looks like Elmo and his fellow muppets may be learning more about Latino culture as "Sesame Street" producers reach out to a broader Latino audience.
Jamie Naidoo, an assistant professor at University of Alabama's School of Library and Information Studies, who's research focuses on the representation of minority populations in print and non-print media, assisted in the show's effort to incorporate accurate portrayals of Latino culture.
"My specific role was to describe how Latinos are represented in children's print materials, both positive and negative portrayals, and suggest ideas for including Latino cultural content into their various outlets to go along with their new initiative," Naidoo said according to the Tuscaloosa News.
Naidoo directs the National Latino Children's Literature Conference, which he co-developed in 2007. He runs "Imag&iacutenense Libros!", a blog which reviews children's and young adult Latino literature.
Part of the professor's work with "Sesame Street" included revisiting old episodes and giving feedback as to how the show has depicted Latino culture.
Professor Naidoo commented on the importance of "Sesame Street" working to better represent the Latino culture in the state of Alabama, home to one of the country's harshest immigration laws: HB56.
The law prohibits law enforcement officers from releasing an arrested person before his or her immigration status is determined. It does not allow undocumented immigrants to receive any state benefit, and prohibits them from enrolling in public colleges, applying for work or soliciting work in a public space, among other things.
"The Latino population in the U.S. is rapidly increasing, but our children today, particularly those in Alabama, often encounter negative or stereotypical images of Latinos in media," Naidoo said to the Tuscaloosa News.
"By working with publishers and TV producers of children's media to improve their Latino content and appeal to young children, I am providing opportunities for non-Latino children to make intercultural connections with their Latino counterparts," he said.

This isn't the first time the show has aimed to represent a diverse community.
One of the show's co-producers is African American puppeteer Kevin Clash, who is better known as the man behind Elmo. In the film "Being Elmo", which came out last year, Clash recalls being amazed when he first joined the cast of the show that the characters reflected the diversity of his own neighborhood in Baltimore.
SEE SESAME STREET 'EVERYWHERE':
PHOTO GALLERY
Sesame Street Everywhere