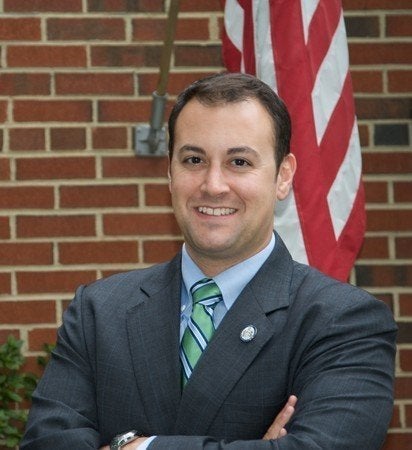 A Virginia legislator whose public statements cost one of his colleagues sex with his wife, acknowledged Monday that his own affair had cost him his state delegate seat and posed a threat to his marriage.
State Del. David Englin (D-Alexandria) announced Monday night that he would not seek re-election for a fifth term in 2013, saying that he and his wife had recently separated following his disclosure about having an affair. Englin, who was the leading opponent of Virginia's failed transvaginal ultrasound bill, did not say whom he had an affair with but noted that he wanted to work on rebuilding his marriage and focusing on his family, which includes a son Caleb.
"[I]n my personal life, I let down my family and was unfaithful in my marriage, so Shayna and I recently separated," Englin said in a statement. "Shayna has always been the true source of my strength and happiness, and we have been a team in my political work."
"I will leave political life to put Shayna and Caleb first and to focus on rebuilding what is and always was most important to me: my marriage and my family," Englin added. "I am deeply sorry for hurting the people I love the most and for letting down so many others who put their faith in me."
Englin said that he would not be addressing his marriage publicly aside from Monday night's statement.
Shayna Englin also addressed the issue in the statement released by her estranged husband. "Public service has been a priority for both David and me," she said. "I'm proud of the work we did together and am grateful for the many who supported David and me in public life."
"During this very difficult and painful time, I hope we can each have the privacy and space we need to refocus on private priorities, be great parents to Caleb, and work through this however we need to," she said.
The Englin name is a combination of David's and Shayna's prior last names prior to marriage -- English and Wolin -- according to a link on Englin's political website.
Englin, a 36-year-old Air Force veteran, has been known as one of the more progressive lawmakers in Richmond. He was recognized by National Journal in 2006 as an up-and-coming legislator in Virginia and his website cites his acknowledgement by environmental, pro-abortion rights, and gay, lesbian, bisexual and transgender groups.
"If the gentleman's plan was to make sure there was one less Republican in the world, he did," Albo said then to a chuckling Englin. "I expect an apology from him later in person on the House floor."
Englin's retirement has resulted in praise in another statement from his Democratic colleagues in Virginia's legislature, who did not address his private life but focused on his work on smoke-free restaurants and the ultrasound bill. "He has been a tireless advocate for his constituents and for the equality of each and every Virginian," Del. Mark Sickles (D-Franconia) said.