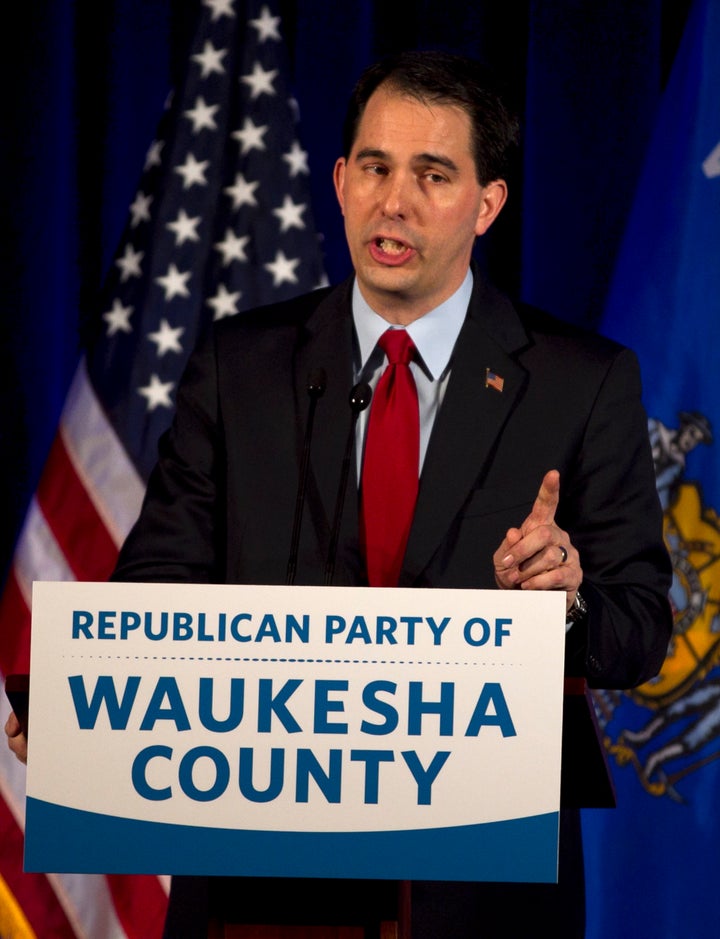 A Republican legislator in New Jersey has introduced a bill that she said would not allow her colleagues to repeat the actions of Democrats in Wisconsin and leave the state to oppose legislative action.
Assemblywoman Nancy Munoz (R-Summit) has introduced a bill to decrease the amount of unexcused absences a legislator can have from 10 to five before losing their seat. She said she was inspired to introduce the legislation after Wisconsin Senate Democrats left the state in 2011 in order to block action on Wisconsin Gov. Scott Walker's (R) proposals regarding collective bargaining and public employees. The bill would still allow for excused absences for illness and other reasons as approved by the Assembly speaker.
"We have been elected by the citizens of New Jersey and represent them," Munoz told HuffPost. "If we don't show up because we do not agree with something we are not doing our jobs. Sometimes we have to make tough decisions and I don't think leaving the state is the way to handle it."
The Wisconsin Senate Democrats left the state in order to prevent the then Republican-controlled Senate from meeting to pass Walker's controversial proposals. The senators later returned and the bills were passed. Several Democratic senators brought up for recall last year were retained in office by voters.
Wisconsin Democrats did not lose their seats for their road trip but faced several temporary sanctions including losing their parking passes at the state Capitol in Madison, having their staffers placed under Republican control and losing access to the legislative photo copier. Financial penalties were also threatened.
Legislators leaving to delay action is not limited to Wisconsin. Indiana House Democrats left the Indianapolis Capitol several times in 2011 and 2012 in order to delay action on right-to-work and school voucher bills. Last month, Iowa House Democrats left the Capitol to delay consideration of gun bills they said were turning the state into the "Wild, Wild West." The Iowa Democrats returned later that day.
While the Indiana and Iowa legislators did not lose their seats or receive a tardy slip, Indiana House Speaker Brian Bosma (R-Indianapolis) did fine the Democrats for their absences, a move Democrats are contesting. While Munoz, a moderate second-term Republican, said she believes that her bill is just putting the Legislature in line with private sector employers, Indiana House Minority Leader Pat Bauer (D-South Bend) lumped her proposal in line with what Bosma did.
"It is a time-honored tradition of parliamentary politics," Bauer told HuffPost about the walkouts. "These radical right wing Republicans come through and they don't understand the principles of representative government we have."
Bauer noted that walkouts have gone on in Indiana for years, including a two-year one in the 1860s.
Munoz said she picked five days due to the amount of full session days the New Jersey legislature has. New Jersey lawmakers meet in full session roughly one to two days a week from January until June -- excluding April -- and then in occasional session in November and December. Committee meetings are held also during the course of the year, with lawmakers receiving $49,000 a year for the part-time job, which includes fully staffed district offices.
Munoz also said her bill would cover the situation involving the 25-year-old South Carolina legislator who has refused to show up for legislative sessions for two months following a dress code violation. South Carolina Rep. Eric Bikas (R-Greenville) said that he hasn't shown up following the dress code flap and what he says was his district being taken away from him. Bikas, who is not seeking reelection, has continued to be paid during unexcused absence from Columbia.
"You can't just not show up for work in another profession; we are accountable to the people who elected us," said Munoz. "You get up everyday and do your job."
BEFORE YOU GO