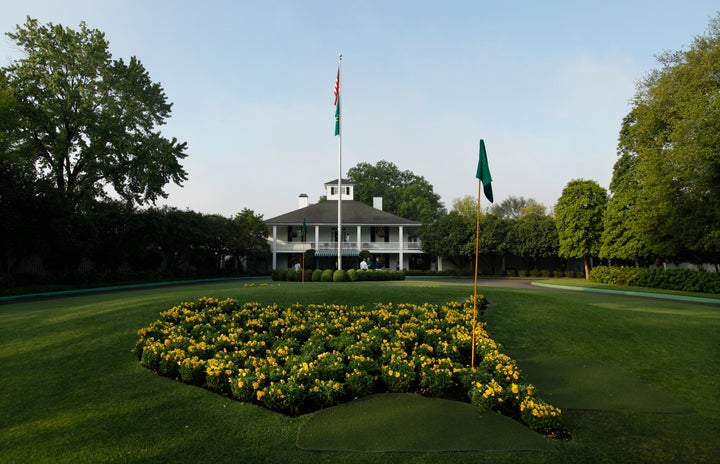 Now that Augusta National Golf Club is being pushed to consider admitting Ginni Rometty as its first female member, what better time to reveal what she'd pay for the so-called privilege?
The Masters golf tournament begins Thursday at the club, but some of the conversation has steered toward its 79 years of excluding women. Augusta has traditionally invited the CEO of IBM, a Masters sponsor, to be a member. That position now belongs to Rometty, who took over as the company's first female chief executive this year.
First off: We don't know if Rometty has actually been invited to join (that's the only way to become a member) or would even consider joining if invited, because IBM wouldn't tell us. "We don't really have a comment on this matter," an IBM spokesman said.
Augusta wasn't talking either, according to Businessweek. The club also refused to comment on how much it costs to join. A woman in membership services said simply, "That's confidential."
But HuffPost has pieced together a pretty good idea of the amount. In a 2009 Golf World story, Ron Sirak took a detailed look at the club and got inside sources, including an anonymous member, to cough up a few ballpark figures. Turns out that membership runs in the "low five figures" and annual dues amount to "a few thousand dollars," according to the article. A recent BusinessInsider story put the annual dues at $10,000. Either way, the dues plus the $10,000 to $30,000 initiation are still a blade of grass on a fairway that spans a galaxy for members like Bill Gates, Warren Buffett and T. Boone Pickens.
In addition, these masters of the universe only have to pay a Comfort Inn-like $100 a night to rest their weary wallets in one of the 105 beds on the premises, Sirak discovered.
Why is it that the 0.001 percent get the yardsale price for luxury? Augusta apparently doesn't need the tycoons' money because the club makes enough through the Masters and its merchandising, reports say.
But if it makes the 99 percent feel any better, there are plenty of rich folks elsewhere paying through the nose to swing clubs on well-manicured lawns and sip martinis in fancy clubhouses.
The Bridge in Bridgehampton, N.Y., charged a whopping $750,000 to join, according to a 2007 Wall Street Journal article. Another Hamptons club, Sebonack Golf Club, billed new members for $650,000 when it opened in 2006, Bloomberg reported.
On the other coast, Shady Canyon Country Club in Irvine, Calif., was getting $300,000 in membership and $1,195 in monthly dues in 2007, according to Southland Golf Magazine.
That's a relative bargain, but we'll just wait for our invitation from Augusta.
BEFORE YOU GO