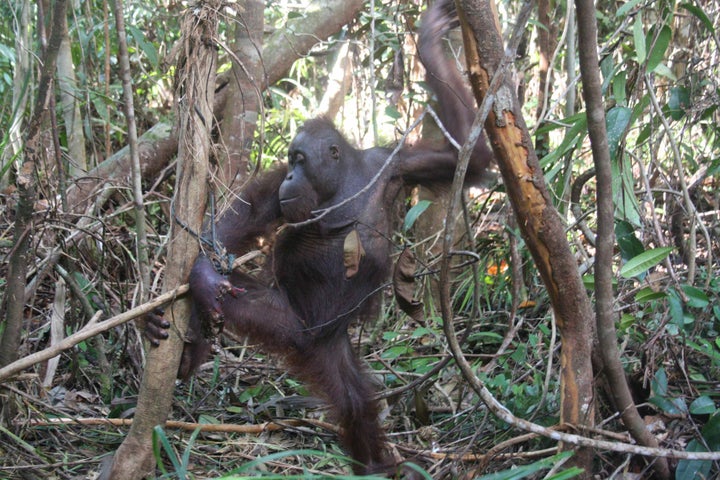 The rescue team sedated the young male, freed him from the snare and gave him fluids for severe dehydration before transporting him back to IAR's clinic in Ketapang, West Kalimantan, Indonesia.
The trap snatched the animal's right hand, which will be amputated after the animal tried to gnaw its hand off, says the charity.
The latest incident highlights how palm oil production (along with wood and paper) is killing off the habitat of the orangutan by clearing forest in order to make more room to grow the crop.
"Pelangsi's story is a graphic illustration of the fate of countless orangutans that are left homeless and hungry when the forest is cut down," IAR's Karmele Llano Sanchez said in a press release.
The site of the entrapment isn't coincidental. According to IAR, the land is home to a large number of orangutans that have fled from the new palm oil plantation that has been created next to it by palm oil company PT KAL (Kayung Agro Lestari) from Austindo Nusantara Jaya Group.
Palm oil is a product widely used in cosmetics and processed food, including Girl Scout cookies.
Take a look at some graphic photos from the rescue earlier this week.
PHOTO GALLERY
Trapped Orangutan
BEFORE YOU GO