Vive le Interwebs! Vogue Paris has launched an English-language website!
After locking away its impossibly chic content from unsophisticated, non-French speakers for years, the magazine has finally established its web presence for English-speaking audiences.
When logging onto Vogue.fr today, you'll be met by a smiley Kate Moss wrapped in a Union Jack dress. To access the English version of the site, click on the U.K. flag on the navigation bar and viola -- Vogue Paris can be yours.
Needless to say, the site is geared towards Paris Vogue's British neighbors rather than, say, us in the U. S. of A. ("Que vous veniez ou pas n'a pas d'importance," Emanuelle Alt seems to be saying). But there's still plenty of awesomeness for audiences of all countries. A sampling:
1. "Look of the Day"

We're curious to see which celebrity looks pique Vogue Paris' interests versus the ones we see splashed on American websites all day. For the debut, Alt and her team have selected Gwyneth Paltrow, proving some girl crushes know no international boundaries.
The French know culture, from their gorgeous art museums to their killer parties (yes, those count). Vogue Paris' "Culture" page comprises a rich mix of performance reviews, city guides, vintage pics and party snaps, reminding us how impossibly cool those Paris fashionistas really are.
Proving its Internet adeptness, Vogue Paris created a page that collects its tweets and Sepia-toned Twitter pics all in one easy-to-find spot.
Vogue Paris goes head-to-head with Style.com with exhaustive photo slideshows of every runway show categorized by season, city and designer... and divided by clothing items, accessories, models, fabrics, "motifs" and colors. Every runway show is at your fingertips.
Basically Paris Vogue's version of Vogue.com's Voguepedia: an alphabetized encyclopedia of all things fashion.
Intéressé? Explore the new site at En.Vogue.fr and send a big "Merci beaucoup!" Emanuelle Alt's way.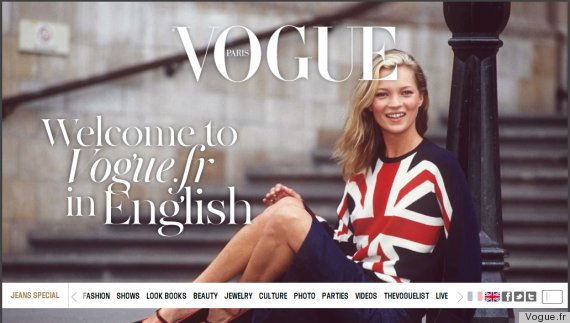 BEFORE YOU GO