A serving tray is one of those household items that you'll always find a use for--and this Craft Of The Day is no exception. A pretty tufted tray is the perfect upholstery project for beginners and although it requires a bit of time, it's easier to make than you think. It's a great decorative piece to put in an entryway or living room that doubles as a catchall for keys, remotes, loose change or knick knacks. Keep reading for the how-to.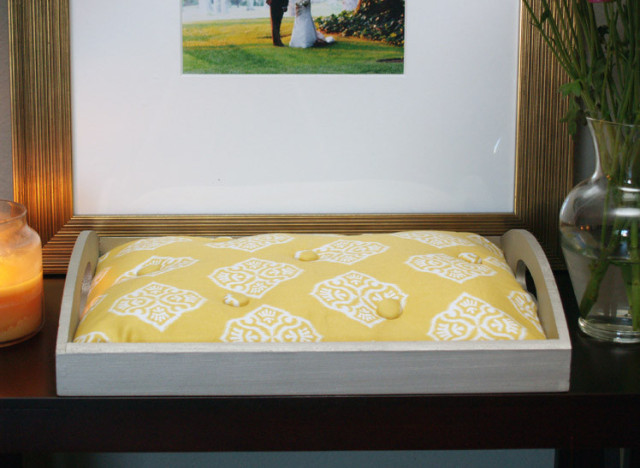 Photo by Arica Rosenthal of Love & Rosen
What You'll Need:
A tray
Fabric
Polyester liner
Cardboard
Stuffing
Spray paint
Button covering kit (optional)
Needle and thread
Stapler
Screwdriver
Ribbon
Gorilla glue
How To Make It:
1. Measure a piece of cardboard to fit the inside of your tray.
2. Spray paint your tray the color of your choice.
3. Cover your cardboard with a layer of stuffing.
4. Cut your fabric and lining so that both pieces are large enough to cover your cardboard and stuffing. Staple everything in place.
5. Mark a diamond pattern on the cardboard where you want your buttons to go. Then, use a screwdriver to punch holes through the cardboard marks.
6. Using your button kit, cover your buttons with matching fabric. Or, skip this step by using buttons you already have.
7. Thread your needle and poke it through a cardboard hole. Thread on a button and then loop the needle back through the hole.
8. Pull your button down tightly before tying it in place. Tie a piece of ribbon in a double knot over the thread to keep it secure.
9. Repeat this process with your other buttons.
10. Glue your cushion to your tray.
For a full tutorial, visit Love & Rosen. And, be sure to check out the other great crafts in our Craft Of The Day slideshow below.
PHOTO GALLERY
Craft Of The Day